9 September 2019 18:39 (UTC+04:00)
811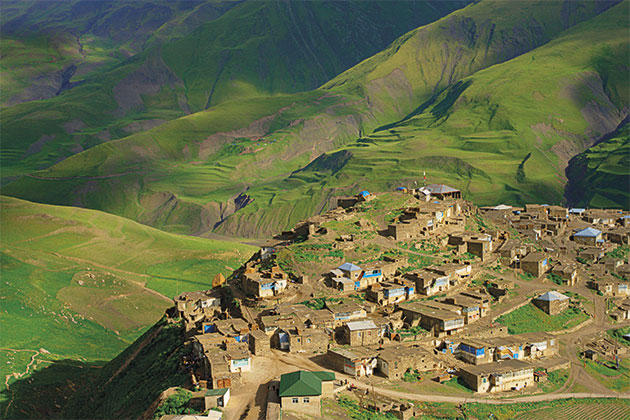 By Rasana Gasimova
Azerbaijan, a country with a rich culture and centuries-old history, has a variety of architectural monuments and sights, and historical and cultural reserves play a special role among such attractions.
State Tourism Agency of Azerbaijan is creating a concept of transforming the Khinalig state historical and ethnographic reserve in Guba region into a tourist center, Fuad Naghiyev, Head of the Agency, told reporters during a press tour in Khinalig.
"We are creating a program to transform Khinalig into a tourist center. Within the framework of this program, we decided to hold a music festival called "On the Top of Mountains", which will contribute to the development of tourism in the village," Naghiyev said.
He added that the festival is held as a part of the state program of social support, which will facilitate creating new jobs in the village in the future.
"We are interested in making the local population ready to receive tourists, both local and foreign," Naghiyev said.
Khinalig village is located in the north of Azerbaijan at an altitude of 2,100-2,200 meters above sea level. Due to its difficult accessibility, a peculiar language, unique architectural appearance and culture, it attracts tourists and travelers.
Here one can find the temple of fire worshipers, the tomb of Khidir Nabi, the mosques of Sheikh Shalbuz, Abu Muslim, caves and numerous unexplored archaeological sites belonging to the Middle Ages.
Naghiyev also said that work is underway to increase tourist flow to Azerbaijan. "We anticipate this year's tourist flow to increase by 8-10 percent. In general, according to our estimates, the tourist flow is expected to reach 4.5 million people a year by 2022."
In addition, he said that one of the main goals of the Agency is to improve the quality of service so that tourists who come to Azerbaijan return to the country again.
The tourist flow to Azerbaijan in January-July 2019 amounted to 1.78 million people, which is 7.4 percent higher than in same period last year.
---
Follow us on Twitter @AzerNewsAz
Related News