19 April 2019 15:50 (UTC+04:00)
1 298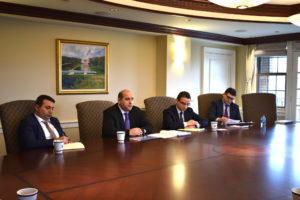 By Trend
On April 18, the Caspian Policy Center (Washington D.C.) and the Heritage Foundation co-sponsored an event on structural economic reforms in Azerbaijan, which featured a speech by Dr. Emin Huseynov. Dr. Huseynov, who had previously served as Deputy Minister of Finance of Azerbaijan, was recently appointed to the office of the economic aide to the First Vice President of Azerbaijan, Trend reports with reference to the Caspian Policy Center.
In his remarks, he focused on two key areas. First, Dr. Huseynov is seeking to garner input from international development experts regarding the creation of Azerbaijan's new economic strategy for the next five. Azerbaijan's Strategic Road Map, its existing economic development plan, was developed as a corroboration between McKinsey and the Azerbaijani government. Going forward, Azerbaijani officials want to conduct the drafting of the new economic strategy in a more open manner which incorporates feedback from diverse sources, and they hope to make the World Bank a key partner in this process.
The second focus of his talk was to reinvigorate bilateral economic ties between the United States and Azerbaijan. He noted that U.S. entities have over $10 billion of investments in Azerbaijan, and that Baku has multi-billion dollar holdings of U.S. government bonds in its sovereign wealth fund; however, several challenges exist. The Bilateral Economic Partnership commission has not met consistently for several years, and the Overseas Private Investment Corporation has not undertaken any new investments in Azerbaijan for some time. Azerbaijan, which has identified the need to shift from government-led investment in the economy to private investment, is trying to attract foreign funding to accomplish its reform goals.
Next, Dr. Huseynov turned to describe the current state of the Azerbaijani economy in light of recent reform initiatives. As a major energy exporter, Azerbaijan is sensitive to fluctuations in global commodity prices, a fact made painfully clear when the oil price drop in 2014 drove the economy into recession. Despite the hardship it caused, this economic contraction gave impetus to an economic reform agenda that has seen many concrete results. The Azerbaijani government established a Financial Stability Board, tightened fiscal and monetary policy, took direct control of state-owned firms to bolster budget discipline, expanded government oversight of insurance markets, and executed Central Bank reform to adopt inflation targeting. Furthermore, authorities implemented a binding fiscal rule that limited the proportion of annual oil revenue which can be spent to 25 percent. The government is working on implementing medium-term budget planning and is developing a medium-to-long-term debt management strategy. It has reformed the real sector by reducing red tape and establishing a system of tax incentives to promote investment and exports. A new agency has been established to support small- and medium-sized enterprises (SMEs) since SMEs make up a small percentage of the Azerbaijani economy but could be a large source of dynamism and growth. The government has undertaken efforts to reduce start-up costs for SME, including reducing the cost of utility connection and creating an electronic system for the provision of construction permits to expedite their issuance. Finally, the government has sought to segregate the regulatory and operating functions of ministries, for example in the Ministry of Health, which both regulates the provision of healthcare in the country and operates public hospitals.
Dr. Huseynov next touched upon welfare reform in Azerbaijan. Healthcare reform was a top priority, and the government has sought to address it by introducing mandatory health insurance. It has also raised the minimum wage significantly in order to improve the standard of living among the low earners and has increased cash transfers to students, pensioners, those with disabilities, and veterans. Authorities also elected to compensate savers who had funds denominated in manat and consequently lost buying power when the Azerbaijani currency was devalued. Finally, the government took over a portfolio of non-performing loans from the banking sector to allow banks to redeploy capital more productively.
Dr. Huseynov concluded his remarks by noting Azerbaijan's determination to continue the reform process in order to continue improving its ranking in the Doing Business and Economic Freedom indices. He reiterated the need to reduce the government's role in the economy, encourage private investment and reduce dependence on energy exports.
---
Follow us on Twitter @AzerNewsAz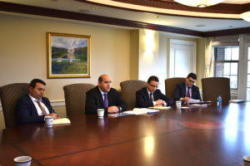 Related News