12 February 2016 16:05 (UTC+04:00)
2 153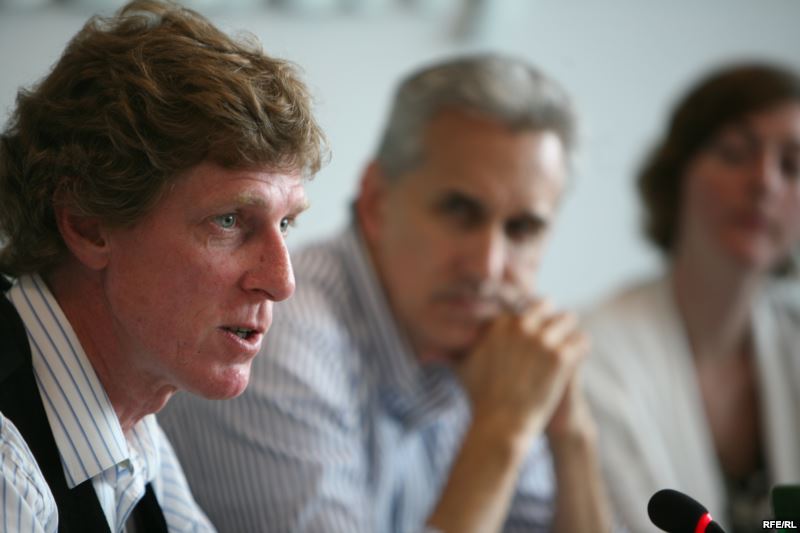 By Aynur Karimova
Kazakhstan will see more interest of big oil companies in its Eurasia project once the price of oil rises a bit and shows signs of firming, Bruce Pannier believes.
The Eurasia project to be implemented in 2016 to 2020 targets studying deep-water geological structure of the region to enable discovery of new large fields of hydrocarbons.
Commenting on the possibility and prospects of participation of Chevron, Total, Lukoil, Rosneft, CNPC and ONGC in the Eurasia project, the expert on Central Asia, and the Senior Correspondent at Radio Free Europe/Radio Liberty said Kazakhstan desires the participation of these companies in the Astana-initiated project.
"These are certainly big companies and Kazakhstan has said from the start it would take the participation of big companies to realize the Eurasia project," he told Azernews.
The Eurasia project initiated in Atyrau in 2-14 involves the exploration of deep laying horizons of the Caspian Basin, both on land and at sea, located on the territory of Kazakhstan and Russia.
It is estimated at about $500 million. It will be carried out in three phases. The first phase envisages the collection and processing of materials from previous years. The second phase includes large-scale research. The last phase includes the drilling of a new support-parametric well called Caspian 1, at the depth of nearly 14-15 kilometers.
Earlier, Kazakh Energy Ministry told Trend that Kazakhstan currently holds meetings and consultations with such leading global oil, gas and service companies as the U.S. Chevron, the French Total, Russia's Lukoil and Rosneft, China's CNPC, India's ONGC and others regarding the terms of their possible involvement in the Eurasia project.
Pannier believes that the main condition on the way of involvement of leading energy companies in this project is the price of oil in the world markets.
"The idea of the Eurasia project has been around for a few years, since at least 2013. Those were better days for such an idea since the price of oil was still hovering just under record highs," he said. "With oil prices now much, much lower and a glut of oil on the world markets, a project such as the Eurasia project probably does not look so attractive. The good news is that no one expects the price of oil will remain as low as it is now, though it is unlikely to ever reach the peaks it hit several years ago."
Current forecasts show that global oil production is likely to decrease in about 15-25 years due to depleted reserves by that time. Kazakhstan's giant oil fields - Tengiz and Kashagan - are among those fields that are predicted to see reduced output after 2040.
"New fields need to be found and developed and the Eurasia project offers such a possibility. But of course, it requires much deeper drilling than we've seen in previously," Pannier stated.
The implementation of the Eurasia project, the potential payoff for which is huge - up to some 50 billion tons of oil and oil equivalent, will require some $500 million, according to Kazakh officials.
The expert believes that this is not a huge amount considering the estimated amount of reserves at deep levels in the Caspian depression.
"There are some people involved in the project who think that some, and I emphasize "some," of the onshore sites in Kazakhstan could produce oil at a cost of $20 per barrel," he noted.
Meanwhile, decrease of oil reserves is likely to reduce interest in traditional energy resources, and at the same time to boost interest in renewable resources. In this regard, the time required for the implementation of the Eurasia project is important as well, according to Pannier.
"While the amount of available oil may start to decrease in 20 years, there is also the possibility new sources of energy, or even non-traditional sources such as shale, could be so cheap and abundant that there simply would not be a large demand for oil anymore," he added.
Touching upon the prospects of implementation of the Eurasia project and the benefits that it could bring to Kazakhstan, Pannier said the first thing Astana would get is a supply of oil it could depend on once the Tengiz and Kashagan fields start to fall into decline.
"If Kazakhstan is counting on oil exports to remain a main pillar of the country's economy, then future supplies must be found and development of those sites needs to start soon," he stressed.
Pannier believes that new technologies are as important for Kazakhstan as financial revenues from the implementation of the Eurasia project.
"So money is a big part of what Kazakhstan is looking for, but Kazakh officials have been quick to point out that new technologies will need to be developed to find oil at these depths and then bring it to the surface," he said.
Such technologies, according to the expert, might help Kazakhstan find oil in other areas on its territory, away from the Caspian Depression, and these technologies could certainly be exported to other oil-exporting countries, which, like Kazakhstan, will find that in two decades or so they also will be running out of oil from fields closer to the surface and need to go deeper.
--
Aynur Karimova is AzerNews' staff journalist, follow her on Twitter: @Aynur_Karimova
Follow us on Twitter @AzerNewsAz
Related News