Institute of Archeology: Life in Basgal reserve dates to 1st millennium BC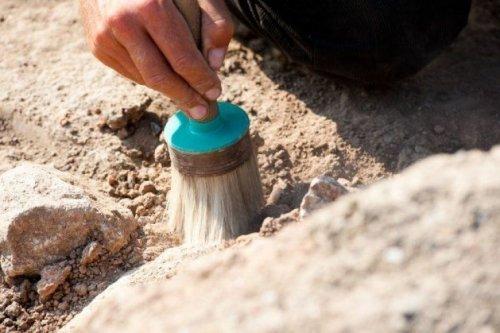 By Rasana Gasimova
The Institute of Archeology and Ethnography by the Azerbaijan National Academy of Sciences (ANAS) is carrying out archeological excavations on the territory of Basgal Historical and Cultural Reserve in Ismayilli region upon the request of the State Tourism Agency.
Archeological expedition has started reconnaissance activities on the territory of Galabashi, Bazar meydani (market square), bathing complexes and mosques. The purpose of the expedition is to determine the time of the beginning of human life on the territory of the settlement, the dynamics of population's life, to define how much the stratigraphy of buildings and elements of the city has changed throughout the process of development of the settlement, and to explore the culture and household features of the inhabitants.
The archeologists have already examined a part of the northern part of the Basgal fortress walls and the remains of the sewer network of the Basgal bathing complex. During the studies, it was found that the building that was considered to be the Basgal mosque is actually built on the remains of a more ancient building. This building is the most ancient historical monument of all the monuments on the territory of Basqal.
According to preliminary results of archeological studies, areas surrounding Basgal were actively inhabited in the end of 1st millennium BC- beginning of AD. These areas were inhabited as early as in the fifth millennium AD. The inhabitants of these areas were practicing traditional occupations.
Basgal village of Ismayilli region is one of the oldest settlements of Azerbaijan. The village has rich history and unique nature. It is one of the unique settlements that have brought the elements of medieval city culture to modern times. The historical monuments of cultural heritage such as Koshabulaq, Daremahal, Demirchibazar and other ancient settlements, mosques, water and sewer networks, baths, springs, estates and maple trees that are more than 300 years old.
Basgal is located at an altitude of 998 meters above sea level and is also a part of the state cultural and historical reserve.
The present territory of the village belongs to the ancient Albanian state. Having an ancient history, Basqal is very famous for its castles and mosques.
Since ancient times, Basgal has been a center for handicraft production. The village is known for its silk weaving, and production of national women's silk scarves. Carpet-making shops also work here.
Basgal was the center of Ismayilli region in 1932-1933. The several meters thick walls of the fortress located in Galabashi are preserved to this day. They are thought to have been built in the 14th century.
The Basgal State Historical and Cultural Reserve was established in 1989. On October 3, 2018, President Ilham Aliyev signed a decree on the Basgal State Historical and Cultural Reserve. According to it, the State Agency of Tourism was instructed to prepare a detailed reference on the results of the study of the situation in the Basgal Reserve.
---
Follow us on Twitter @AzerNewsAz