Azerbaijan plans to train professional swimmers from early age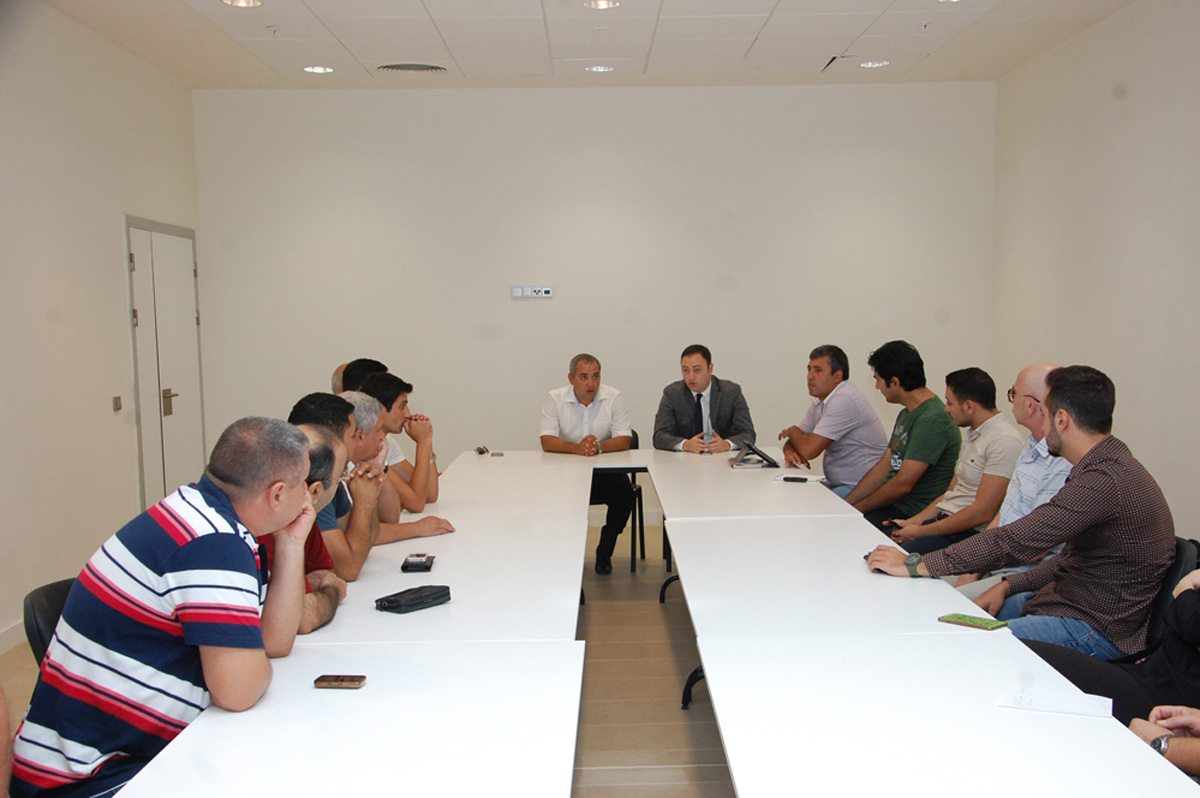 By Amina Nazarli
Azerbaijan's Water Sport Federation has conducted a meeting with the coaching staff in order to organize swimming classes for teenagers at the new Water Sports Palace.
The meeting was attended by Nijat Hasanov, the director for sport games department of the Youth and Sports Ministry, Farid Bananiyarli, the general secretary of the Federation, and Rashad Abdurahman, the head coach of the Azerbaijani national swimming team.
The participants decided to prepare an appeal to the Education Ministry to select students of primary and secondary educational institutions of the Sabail district in Baku for professional training in swimming.

According to them, this is an important step in developing water sports in the country.
The head coach of the national swimming team said that thanks to this measure, the students in two years will have a chance to participate in the Russian "Cheerful Dolphin" swimming competition, which has marked its 50th anniversary this year.
"This will also help attract teenage generation to such types of water sports like water polo, synchronized swimming, and etc. Thanks to the conditions in the country for the development of water sports, for several years Azerbaijan will be able to grow strong athletes," he said.
The meeting also discussed the creation of a coaching team for the preparation not only of athletes, but also young coaches, who in turn will be able to work to help develop water sports in the country's regions.
In addition, coaches will be provided with certification after passing exams.
"Azerbaijan is going to use new attitudes and technologies to establish the swimming base, which will usher in a new series of strong athletes in a few years in the country."
"Another priority is to determine the national team in swimming. To achieve good results, we need to start basic training. Training will be organized twice a day in the morning and evening. Athlete will enjoy simulators and other sports equipment," Abdurahmanov said.
In recent years, the government has come to pay attention to the development of water sports in the country. The Water Sports Palace, established in 2015 has a facility that fully meets the requirements of the International Swimming Federation.
The Palace has three swimming pools. The first pool, 50 meters in length and 25 meters wide, is designed for competitions. The second pool is used for training. The length of the pool for diving is 25 meters long, with a width of 20 meters.
Every year the country hosts several domestic and international competitions to generate the interest of young people in this sport.
During the 1st European Games held this summer in Baku, which attracted some 6,000 athletes, water sports such as swimming, diving, synchronized swimming, and water polo were also featured.
Since 2013, the International Water Polo Tournament has been underway in the country's Mingachevir city, attracting many foreign athletes.
--
Amina Nazarli is AzerNews' staff journalist, follow her on Twitter: @amina_nazarli

Follow us on Twitter @AzerNewsAz