National rowers secure two more qualifications for Olympics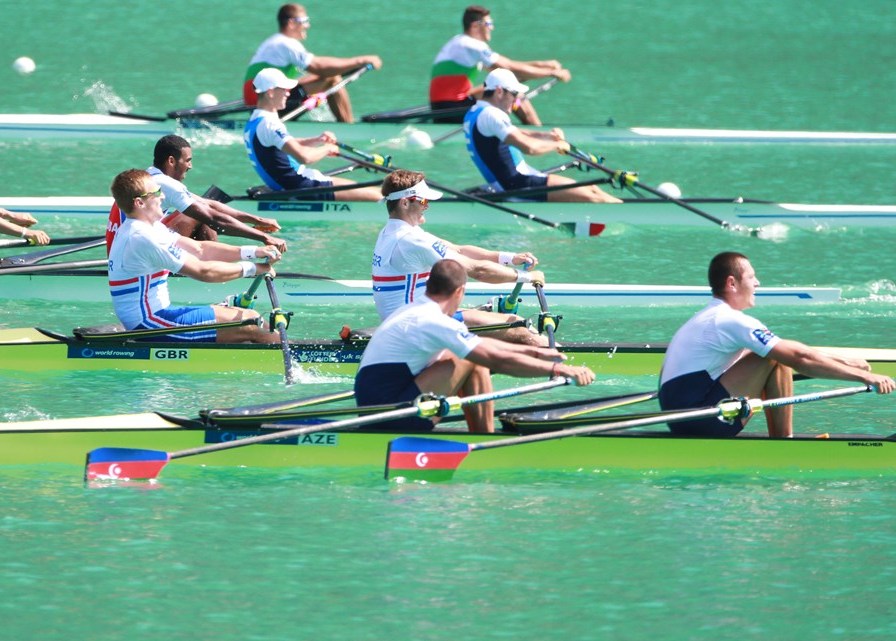 By Amina Nazarli
Two of Azerbaijan's national rowers earned their tickets to the 2016 Olympic Games in Rio de Janeiro.
The Duo of Aleksandr Aleksandrov and Boris Yotov achieved success at the 2015 World Rowing Championships held from August 30 to September 6 in Aiguebelette, France.
On the Men's Double Sculls (M2X), the Azerbaijani rowers reached the final first at a time of 06:10.260.
According to the rules, the first eleven pairs competing in this category qualify for Rio 2016.
The duos of Collins John and Walton Jonathan from UK, Rubio Rodriguez Eduardo and Oquendo Ibanez Adrian from Cuba, Gentili Giacomo and Battisti Romano from Italy, Bozhilov Georgi and Vasilev Kristian from Bulgaria, as well as Hoff Nils Jakob and Borch Kjetil from Norway also secured Olympic qualifications.
Azerbaijan will be represented at the Olympics in rowing for the second time.
In the London 2012 Summer Olympics, the country sent Aleksandr Aleksandrov to compete in the men's single and Natalia Mustafayeva in the women's 200 meters competition.
The pair of Aleksandr and Boris also competed then, but only to take third place at the qualification without securing an Olympics qualification.

Since then, the two athletes gained a lot of experience participating in different competitions.

Earlier, 19 year-old Yotov won silver medal at the 2014 Summer Youth Olympic Games in Nanjing, China. He is the first Azerbaijani Olympic rowing champion.

Aleksandr become the world champion in the men's under 23 single boat category in 2013, and when paired with Yotov, the duo place second in the European championship in 2014.
Overall, the Azerbaijan Rowing Federation has ended the year with four Olympic qualifications, not just in rowing and canoe, but also in Olympic kayaking.
Earlier, qualifications for Rio 2016 were secured by female kayaker Osipenko Rodomska in the 200 and 500 meter single boat race and canoeist Valentin Demyanenko in the men's 200-meter single in Italy.
The next qualifiers will be chosen in May 2016.
--
Amina Nazarli is AzerNews' staff journalist, follow her on Twitter: @amina_nazarli

Follow us on Twitter @AzerNewsAz