Vugar Gashimov tournament wraps up in Baku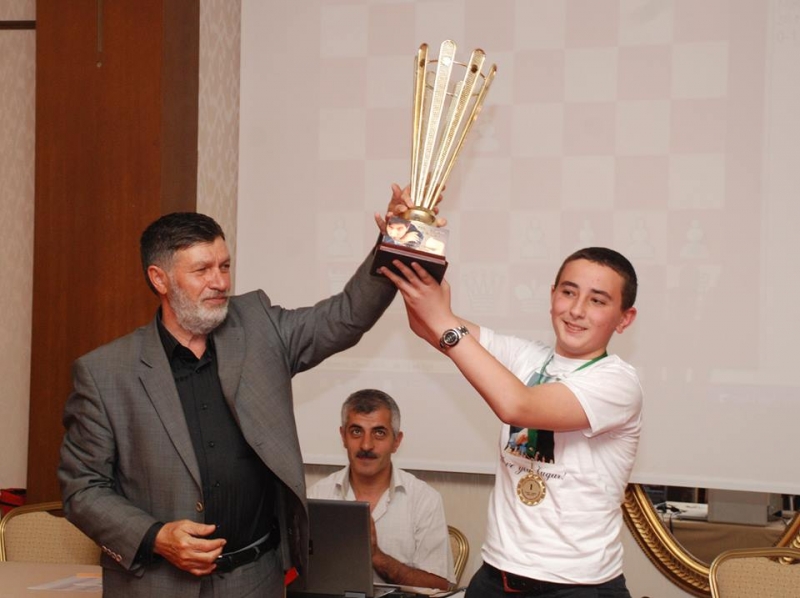 By Nigar Orujova
The international tournament devoted to Azerbaijan's late grandmaster Vugar Gashimov wrapped up in Baku on August 2.
Kanan Garayev from Baku won the tournament with 7.5 points in nine rounds. He was awarded with Vugar Hashimov's Cup. Garayev will participate in the European Youth Chess Championship to be held in Batumi in October 18-29.
The silver medalist with equal points was Ravan Aliyev who received the right to participate in Baku Open-2014.
Third place went to Mohammed Muradli, who will take part at the international festival "Nakhchivan Open 2015".
The memorial tournament for children under 12 gathered 96 chess players from Azerbaijan, Russia, France, Georgia, Turkey, Iran and other countries.
The tournament was the second competition devoted to the prominent Azerbaijani grandmaster and European Champion of 2009 Vugar Gashimov, who was known as a strong player in blitz.
The first memorial tournament brought together the world's top chess players and ended with the victory of Norwegian grandmaster Magnus Carlsen. It was held in Shamkir in April.
Born in Baku in 1986, Vugar Gashimov was taught to play chess by his father at the age of six. He became Azerbaijan's champion three times: in 1995, 1996, 1998, and was also the four- time silver medalist of the European youth championship (1996-2000).
Gashimov won a bronze medalist in the European Team Championship in 2007.He became the European Champion with Azerbaijan's national team in 2009, providing the team with a decisive point in the final round.
He was also the European vice-champion in 2011 and the winner of the Reggio Emilia tournament in 2010-2011.
Vugar Gashimov, together with grandmasters Teymur Rajabov and Shahriyar Mammadyarov, was considered as one of Azerbaijan's top chess players.
After his early successes, Gashimov put his activities on hold for a while to have a surgery. The disease resurfaced in 2011, when he suddenly lost consciousness during a match against the French national team in the European Championship.
Then he had a long-term treatment in Switzerland and Germany but failed to beat the disease in early 2014. The news of his death shocked Azerbaijan and the entire sport community.