Magnus Carlsen hails organization of Vugar Gashimov memorial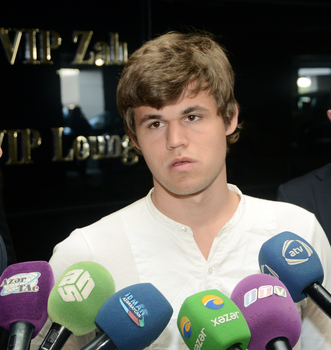 By Nazrin Gadimova
Reigning World Chess Champion, Norwegian chess grandmaster Magnus Carlsen hailed the organization of Shamkir 2014 tournament that will open on April 19.
"The tournament is perfectly organized," Carlsen told journalists in Baku.
The Norwegian grandmaster said he would try his best to win the Shamkir 2014 tournament that will commemorate late Azerbaijani grandmaster Vugar Gashimov.
Along with the Norwegian chess player, Shamkir tournament will see Fabiano Caruana, ranking fifth in the international FIDE rating, from Italy; Hikaru Nakamura, who is ranked seventh in the same rating, from the USA; Russia's Sergey Karyakin, as well as Azerbaijani grandmasters and European champions Shahriyar Mammadyarov and Teymur Rajabov.
Money prize of the A tournament, sponsored by "Synergy Group, is 100,000 euros.
There will be a second tournament alongside the main event. In this B tournament ten players will play, including five from Azerbaijan (Eltaj Safarli, Nijat Abbasov, Gadir Huseynov, Rauf Mammadov, Vasif Durabeyli) and five foreign players Hao Wang (China), Pavel Eljanov (Ukraine), Etienne Bacrot (France), Radoslav Wojtaszek (Poland), and the new European champion Alexander Motylev (Russia).
The prize fund for this tournament will be 30,000 euros.
Prominent Azerbaijani grandmaster and European Champion of 2009 Vugar Gashimov was known as a strong player in blitz. Together with Teymur Rajabov and Shahriyar Mammadyarov, he was considered one of Azerbaijan's elite chess players.
After his early successes, Gashimov had to put his activities on hold for a while and have surgery. The disease re-surfaced in 2011, causing him to suddenly lose consciousness during a match against the French national team in the European Championship. Then a long-term treatment in Switzerland and Germany began, but he failed to beat the disease.
Vugar Gashimov passed away as a result of serious disease on January 11, 2014. The tragic news about the death of the international grandmaster has shocked the majority of Azerbaijanis and almost the entire sports community.