Azerbaijan, Iran seek to include zorkhana in Olympics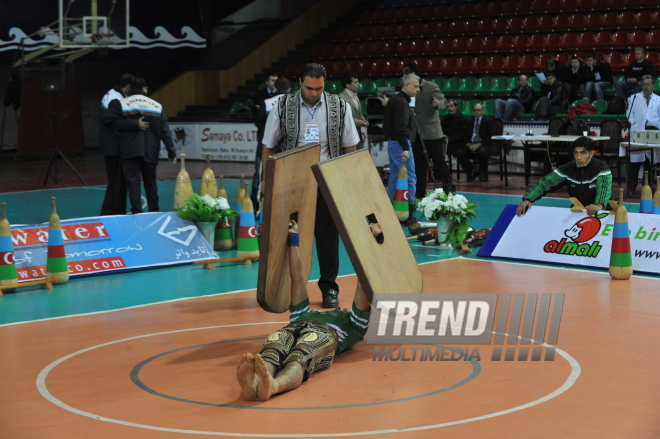 By Nigar Orujova
Azerbaijan and Iran hope to add zorkhana to the list of Olympic sports by making joint efforts.
Zorkhana, literary meaning a "house of strength", is a form of traditional urban sports arena that has been widespread in the two neighboring countries for thousands of years.
Iranian Ambassador to Azerbaijan Mohsen Pak Ayin met with the zorkhana fighters in Baku on October 8.
During the meeting Pak Ayin said the zorkhana fight is considered one of the best sports in the world. It embraces the moral and religious values, and its distinctive feature is generosity, he believes. Pak Ayin said that the grace of zorkhana dwells upon singing and reading poems.
Pak Ayin said that the inclusion of the sport in the Olympic program should be achieved with joint efforts.
"The fight zorkhana is a shared cultural heritage of Azerbaijan and Iran. This sport contributes to the rapprochement not only of the two countries, but also of the two nations," he said.
Secretary general of the Azerbaijan National Olympic Committee (NOC) Agajan Abiyev also expressed his view, saying, "We hope that with the joint efforts of Iran and Azerbaijan we will include the sport in the Olympic Games."
According to the NOC, Baku plans to include zorkhana in the fourth Islamic Solidarity Games, which will be held in the Azerbaijani capital in 2017, bringing together athletes from 57 countries. The national fight may be added to the exhibition events of the tournament.
Popularization of the national sport may help it to enter the Olympic sports list in the future.
Some zorkhanas, the area where "pahlavans" fight, have been maintained until now, including the 17th and 18th century zorkhanas built in Baku, Nakhchivan, Ganja, and Ordubad.
The extensive development of the zorkhana sport started in the Safavid state in the 16th century. Zorkhanas were usually situated in the central parts of cities. They were constructed a little below the ground level and the building was constructed in quadrangular shape. The construction might house about 200-300 spectators.
The traditional zorkhana games were accompanied by the sounds of "Jangi" music. Zorkhana athletes showed their skills while moving in the music rhythms.
The zorkhana session usually includes a succession of games, including "mil", back-stretching exercises, marching, and wrestling.
Nowadays, zorkhana and the "pahlavans" fight are the national sport in Azerbaijan. In 2007, Azerbaijan entered the International Zorkhana Sports Federation, which includes 52 countries.
The Azerbaijani team takes part in all the championships conducted by the federation and has been successful in a number of championships, including the 1st European championship in Saarbrucken, Germany, the World Championship in Bussan, Korea, the World Cup organized in Baku and other tournaments.