Minister of Youth and Sports, EOC President discuss European Games [PHOTOS]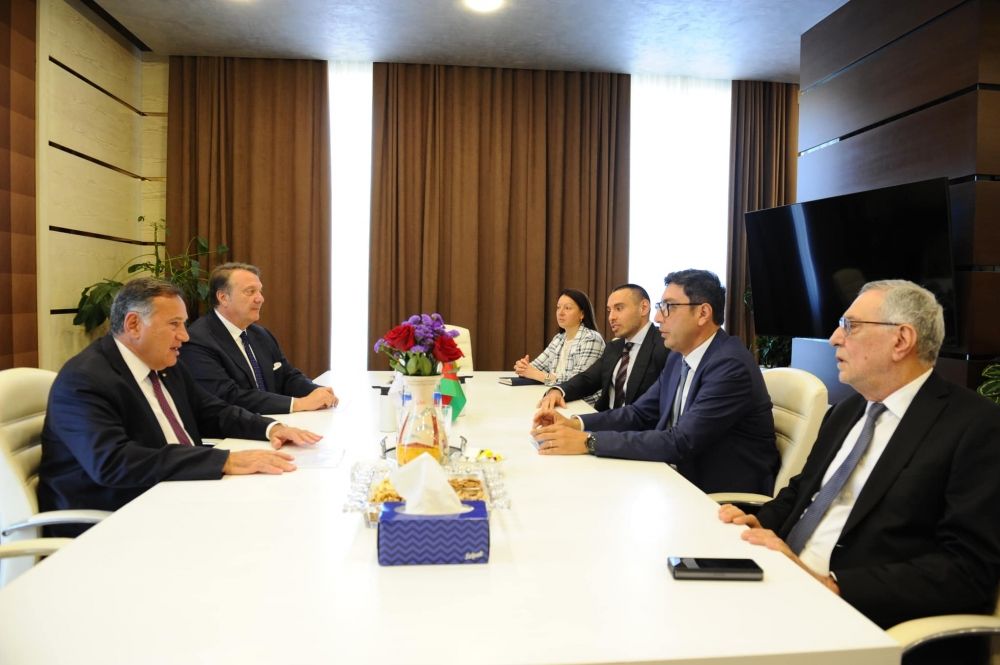 Azerbaijan Minister of Youth and Sports Farid Gayibov has received the President of the European Olympic Committee Spyros Capralos and the member of the Executive Committee of the European Olympic Committee Hasan Arat.
The sides exchanged ideas on the Olympic Movement development in Azerbaijan, Azernews reports.
It was noted that the first European Games were organized at a high level in Azerbaijan.
The European Games were inaugurated in Azerbaijan in 2015. The multi-sport event featured almost 6,000 athletes from 50 countries competing in 30 sports, including 15 summer Olympic and 2 non-Olympic sports.
The meeting also discussed the third European Games to be held in Poland this month.
Around 7,000 athletes from 48 countries will take part in the 2023 European Games.
All Olympic sports held at the games will provide qualification opportunities for the 2024 Summer Olympics in Paris, France.
Speaking with local media, Spyros Capralos noted that the history of the European Games started in Baku. It was here that the torch of the European Games was lit.
He emphasized that Azerbaijan can put forward its candidacy for the organization of this competition in the future. The country has a very strong infrastructure for hosting such large-scale events.
"I remember the first European Games held in Baku. The arena, the fans, everything was perfect. Azerbaijan is still at the top in organizing world-class tournaments," he said.
The President of the European Olympic Committee also praised the high-level of the organization of the event.
Although the program of the third European Games was changed, S.Capralos stated that its strategy remained unchanged, reminding that 3x3 basketball and karate were included in the program of the European Games.
"Both sports later became part of the Olympics. Therefore, the European Games are a chance for many sports to express themselves at a new level," he said.
Stating that the country that will host the fourth European Games has not yet been determined, S. Capralos said that this issue continues to be on the agenda.
"Azerbaijan has left such a legacy regarding the organization of the competition that the countries that will host the next European Games are trying to at least meet the Baku standards," said the President of the European Olympic Committees.
---
Follow us on Twitter @AzerNewsAz