Uzbekistan starts construction of solar plants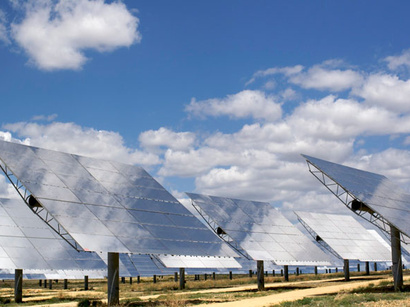 By Aynur Karimova
Uzbekistan has begun the construction of three solar power plants worth $700 million, which will become the pioneers of such technology in the Central Asian region, Reuters quoted Uzbekenergo Joint Stock Company as stating on August 24.
Some 300 megawatts of clean energy is expected to be produced from solar power plants that will be put into operation by 2020.
The tender for the construction of the first station worth $274 million in the Samarqand region was announced in 2014 and Uzbekenergo expects that the winner will be determined later this year.
The other two stations are slated for construction in the Namangan and Surkhandarya regions, and their aggregate costs amount to roughly $420 million.
Each of the three stations will have a capacity of 100 megawatts. The projects will be financed by the Asian Development Bank and the Uzbek Fund for Reconstruction and Development.
Central Asian Uzbekistan, an oil and natural gas producer, depends on the thermal power plants which account for 90 percent of the country's electricity consumption.
However, with an average 320 sunny days a year, Uzbekistan has great potential for the development of solar energy. Uzbekistan also enjoys significant reserves of silicon, which is a key component in solar technologies.
Uzbekistan's potential for renewable energy sources is estimated at about 51 billion tons of oil equivalent. The country's hydropower potential is 9.2 million tons of oil equivalent, while the potential of solar energy at 50.973 billion tons, wind potential at 2.2 million tons and geothermal at 0.2 million tons of oil equivalent.
In early 2013, Uzbekistan unveiled a set of measures for the development of alternative sources of energy. The country established the International Institute for Solar Energy jointly with ADB in September 2013.
The institute seeks to sponsor high-tech developments in the field of industrial application of solar energy, to conduct applied researches on the use of solar energy in various sectors of economy, and to coordinate logistics and paperwork for major solar projects.
--
Aynur Karimova is AzerNews' staff journalist, follow her on Twitter: @Aynur_Karimova
Follow us on Twitter @AzerNewsAz