30 June 2015 14:31 (UTC+04:00)
1 454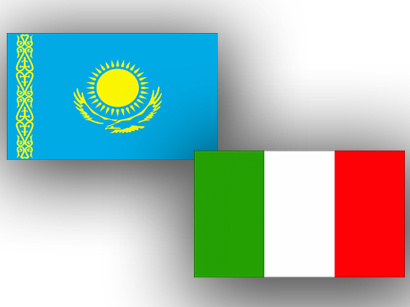 By Vusala Abbasova
Investors are given the opportunity to attract foreign labor without any quotas and permits, Nursultan Nazarbayev, said Kazakhstan's President at the EXPO Milano 2015 opening ceremony, dedicated to the National Day of Kazakhstan.
Nursultan Nazarbayev mentioned that a visa-free regime has been established for investors from 10 countries, including Italy, the leading foreign investor in Kazakhstan.
Kazakhstan will prolong the visa-free regime for investors, and extended it to another 10 countries: Switzerland, Spain, Belgium, Hungary, Monaco, Singapore, Australia, Norway, Sweden and Finland from July 15.
Italian-Kazakh trade and economic cooperation is steadily strengthening each year. According to last year's records, the volume of Italy direct investments in Kazakhstan exceeded $17 billion, while the total trade with the EU amounted $55 billion.
Kazakhstan and Italian cooperation in the technological, energy, transport, trade, economic, and humanitarian fields open new opportunities for improving mutual relations.
"The Italian direct flows into Kazakhstan amounted about $6 billion since 2005," Nazarbayev stressed, speaking about the growth of mutual trade turnover between the countries.
The bilateral Italian-Kazakh business forum was held in Milan, within the framework of the EXPO-2015 exhibition, where the sides have signed 20 contracts worth about $500 million.
The contracts are related to the production of agricultural machinery, food products, textiles, oil, and the construction sectors between the two countries.
The agreement on the participation share in the exploration and production of the Isatai between the KazMunayGas national company and the Eni Isatai BV Company was the priority of the conversation.
A memorandum of understanding between the Kazakhstan Ministry of Investment and Development and a number of Italian companies, as well as a memorandum of cooperation between the administration of the Kazakh capital Astana, Kazakhstan Engineering Union and the Italian Federation of Associations engineering industry ANIMA were also signed during the business forum.
Nazarbayev pointed out that Kazakhstan has become attractive for foreign investors due to its activities within Eurasian Economic Union, with an integrated single market of 180 million people. The trade bloc of Kazakhstan, Russia, Belarus, Kyrgyzstan, and Armenia has introduced the free movement of goods, capital, services, and labor. Kazakhstan can be considered as a gateway to the EEU, he explained.
Kyrgyzstan's integration into the EEU will favorably effect on the development of agriculture production, and improve technologies and trade relationships with foreign markets in the EEU.
In socio-economic terms, the removal of customs barriers and the growth of mutual trade will open up investment flow from more economically developed countries of the EEU into Kyrgyzstan.
Agriculture in mountainous Kyrgyzstan accounts for approximately 24 percent of the country's GDP. Kyrgyzstan's agriculture sector has not only economic, but also social and political importance.
---
Follow us on Twitter @AzerNewsAz
Related News