17 June 2015 14:46 (UTC+04:00)
880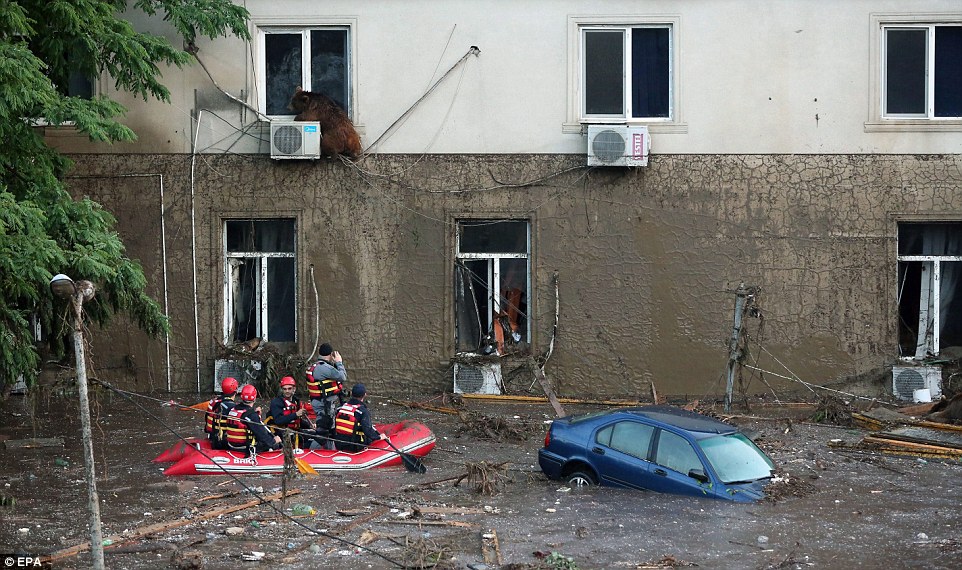 By Amina Nazarli
Some 16 people are confirmed dead with an additional 6 people missing as of June 17 in the worst flooding that Georgia's capital Tbilisi has witnessed in the last 55 years.
The June 14 rainfall damaged the first floors of hundreds of houses and their yards, some underground passages, and roads, as well as power lines and infrastructure facilities . Dozens families were left homeless.
The River Mtkvari is Tbilisi's main water artery and it divides the Georgian capital, but it was not the culprit in the flooding. It was actually the River Vere, normally a small western tributary to the Mtkvari, which could not cope with the sudden downpour that eventually poured out into the streets..
The flood also completely destroyed the lower part of the city's zoo. Some animals died when water and mud flooded their enclosures. According to eyewitness reports, hundreds of dogs also died at a private animal shelter near the zoo.
The Prague Zoo, which suffered from the devastating flooding that hit the Czech capital in 2002 and again in 2013, sent a team of experts to Tbilisi, the Daily Mail said.
'When we learned about the situation in Tbilisi Zoo, we started to work out how to help,' Prague Zoo director Miroslav Bobek said. 'Based on our experience with the floods, we decided to create a team of curators to travel to Georgia's zoo to help take care of the animals.'
Earlier, zoo spokeswoman Mziya Sharashidze said that eight lions, all seven of the zoo's tigers, and at least two of its three jaguars were killed.
Only two of the zoo's 14 bears survived, while nine of its 17 penguins died, she said.
But there was also good news in that a hippopotamus survived the flash flooding and was returned to the zoo in good health.
The African penguin, which was able to swim to the Azerbaijani-Georgian border, was also lucky. It was discovered alive in the river near the Red Bridge.
Meanwhile, the government is discussing the decision to transfer the zoo to the city's outskirts.
The city's mayor David Narmania supports this idea, saying that there is an outline plan of how to move the zoo to the territory adjacent to the Tbilisi Sea.
The Georgian government declared June 15 a national day of mourning, closing schools and offices throughout the country. Hundreds of rescue workers, police officers, soldiers, and volunteers worked for the third in rescue and cleanup efforts.
The search operations in the aftermath of severe flooding that were stopped due to severe weather were resumed on June 17.
SOCAR Energy Georgia, a subsidiary of Azerbaijan energy giant SOCAR, operating in Georgia also provided its assistance.
The company allocated 10,000 liters of petrol for the Tbilisi Municipality and 50,000 Georgian lari to buffer the impact of the natural disaster.
Earlier, Georgian Prime Minister Irakli Garibashvili established a special working group to investigate the causes for the massive flooding.
The floods are thought to have cost the city an estimated £6.5million in damages
--
Amina Nazarli is AzerNews' staff journalist, follow her on Twitter: @amina_nazarli

Follow us on Twitter @AzerNewsAz
Category News