30 September 2014 16:38 (UTC+04:00)
4 886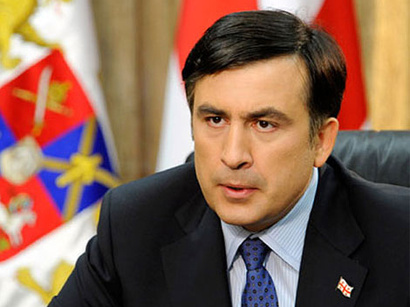 By Mushvig Mehdiyev
The U.S. has denied a business visa to Georgia's ex-president Mikheil Saakashvili, Georgian Alia newspaper reported on September 30, citing Saakashvili's United National Movement party.
"The veracity of the information will soon be cleared. Supporters of the ex-president's party are disappointed. The U.S. political elite is disillusioned with Saakashvili, he has, in fact, no support at the White House anymore," the paper wrote.
It added that in case of visa denial in the U.S., Saakashvili will not be able to count upon that country to get a political asylum.
Saakashvili has not commented on the news yet.
Recall that former president of Georgia, who currently lives in New York, has applied to acquire a business visa on September 20.
"Saakashvili wants to change his tourist status in the U.S for business visa," The New York Times reported, noting that the graduate of the Columbia University wants to resume his lectures at the influential Taft University in the U.S.
The paper noted that the Taft University has cut its cooperation with Saakashvili in this May.
"For now, Saakashvili writes memoirs, attends high-paid lectures, takes part in the establishment of scientific research institution in Washington D.C, as well as meets with his old acquaintances such as John McCain and State Secretary Assistant Victoria Nuland," the paper claims.
Saakahsvili lives in his uncle's house in one of the skyscrapers in Brooklyn's Willaimsburg district. Saakashvili has recently hosted the ex-head of CIA David Petraeus at his house, and plans to meet with the former French president Nicolas Sarkozy.
Saakashvili noted that he has a normal life, as he goes to cafes, restaurants and cinemas, visits theaters and enjoys cycling.
Georgia's ex-president is the graduate of the Columbia University. He has got his master's degree at the same university in 1994.
Meanwhile, Tbilisi court arrested the assets belonging to Saakashvili and his family as he refused to attend the investigative procedures on three different criminal cases.
Saakahsvili was announced wanted within Georgia's territory he was blamed for the embezzlement of state funds, as well as for the dispersal of the massive rallies in the country.
Related News