Iran dismisses media reports on number of centrifuges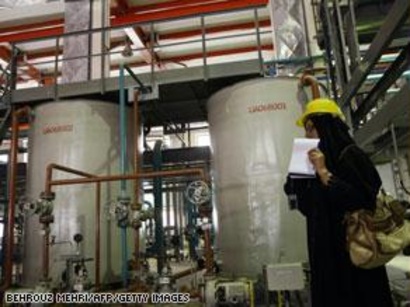 By Sara Rajabova
Iran has rejected as baseless the foreign media reports on the number of uranium enrichment centrifuges that Tehran is seeking to settle on as part of a final nuclear deal with the P5+1.
Iranian Deputy Foreign Minister for Legal and International Affairs, Abbas Araqchi aid reports on the number of uranium enrichment centrifuges that Tehran is seeking to have as part of a final nuclear deal are mere "foreign media speculations."
Araqchi said on July 3 that all the figures which are reported on the number of centrifuges are the figment of the imagination of some foreign media.
A report by Reuters on July 3 quoted "a Western diplomat" as saying that "Iran has reduced the number of centrifuges it wants." The report said diplomats claimed that Iran had signaled it would settle for a lower figure than 50,000 centrifuges.
Araqchi further said certain foreign media outlets seek to ruin the climate of talks between Iran and the P5+1 - Russia, China, France, Britain, the US and Germany - and create tensions, and therefore they do not deserve attention.
He hoped that Iran and the six countries can manage to resolve their differences and work out a final accord on Tehran's nuclear energy program before a July 20 deadline.
Araqchi's comments come as Iran and its negotiating partners formally kicked off the sixth round of nuclear talks in the Austrian capital of Vienna to discuss a permanent accord aimed at ending the Western dispute over Tehran's nuclear activities.
Earlier, Iranian Foreign Minister Mohammad Javad Zarif wrote on his Facebook page that Western media speculations on the nuclear discussions between Tehran and the P5+1 should not be taken seriously as they attempt to influence the negotiations instead of reporting the events.
The representatives of Iran and P5+1 group are trying to clinch the final deal until July 20 deadline, however they cannot come into agreement over some issues on the agenda of talks.
Meanwhile, the European Union (EU) and China have expressed determination to help the achievement of a final and comprehensive deal over Iran's nuclear energy program.
Spokesman for EU Foreign Policy Chief, Michael Mann said the union is determined to help achieve a final deal by July 20, when an interim nuclear deal will expire.
Director General of the Department of Arms Control of the Chinese Foreign Ministry, Wang Qun also voiced Beijing's readiness to help achieve a deal.
P5+1 and Iran reached an interim pact last November under which Iran won some relief from economic sanctions in return for reining in some of its nuclear activities.
Their goal is to reach a comprehensive nuclear agreement that would lay to rest Western concerns about the Iranian program and comprehensively ease sanctions on Tehran by July 20.