24 June 2014 14:27 (UTC+04:00)
1 101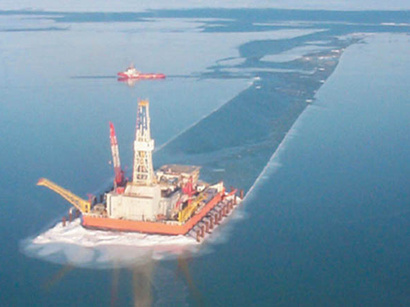 By Aynur Jafarova
ExxonMobil and Shell companies intend to extend the contract on a project on development of Kazakhstan's giant Kashagan field in the Caspian Sea for another 20 years, a source from the North Caspian Operating Company (NCOC), an operator of the project told Trend Agency.

"Yes, the shareholders of the international consortium, namely, Shell and ExxonMobil have intentions to extend the contract on the Kashagan field for another 20 years. The negotiations are underway," the source said.

Nevertheless, the source refused to say on which conditions the contract may be extended and what the country's government can offer.

The source also noted a corresponding document is expected to be signed between the consortium and the country's government.
With recoverable oil reserves estimated at 13 billion barrels, Kashagan field is believed to be the largest oil field in the world after Prudo Bay in Alaska. Its natural gas reserves are also estimated at over 1 trillion cubic meters.
The Kashagan shareholders are Eni, ExxonMobil, Royal Dutch Shell, France's Total and Kazakh state oil company KazMunaiGas (KMG), each with 16.8 percent, and Japan's Inpex and China National Petroleum Corp. (CNPC) as junior partners.
Kazakh Oil and Gas Minister Uzakbai Karabalin told Trend Agency that despite the suspension of oil production at the Kashagan field, the most important issue for Kazakhstan is the confirmation of presence of oil in this field.
"The fall of last year showed that the presence of oil at the Kashagan field is confirmed, and the wells operate normally," Karabalin noted.
Oil production in the Kashagan field started on September 11, 2013. However, operations had to be stopped on September 24 due to a gas leak in the onshore section of the gas pipeline running from Island D to the Bolashak onshore processing facility.
The Department of Emergency Situations was immediately briefed on the regulations. Production was resumed, but stopped again on October 9 after the detection of another gas leak.
The commercial production at the field is expected to be resumed in late 2015.
Related News