23 May 2014 15:28 (UTC+04:00)
1 158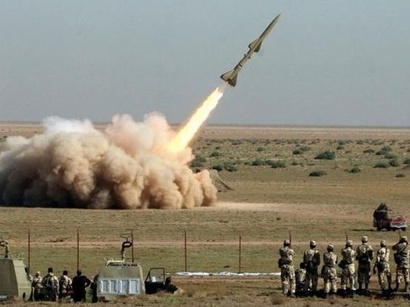 By Sara Rajabova
Iranian army holds a military drill to test a series of its newest domestically-made weapons.
The two-day military exercise of the army's ground force dubbed "Beit ol-Moqaddas" takes place near Kashan city in Iran's central province of Isfahan, IRINN State TV reported on May 23.
The army has already tested-fired a number of its new home-made missiles in the first phase of the drill.
Army's Ground Force Brigadier General Ahmad Reza Pourdastan said the army seeks to improve its combat capability and readiness.
Previously Iranian media outlets quoted Pourdastan as saying that the army will test its 4-kilometer range missiles on its helicopters during Beit ol-Moqaddas.
Pourdastan said the Iranian combat choppers which were recently equipped with high-precision guided missiles and rockets are capable of confronting all types of enemy threats even in asymmetric wars.
Earlier in April, he informed that Iran's army ground force will stage 4 military drills during the current year, two of which he said are specialized war games.
Two of the planned drills will be held in Iran's southeastern and southwestern regions respectively, Pourdastan explained, adding that entire units of the armored, artillery, airborne and Unmanned Aerial Vehicle (UAV) divisions will participate in the exercises.
Iranian media outlets report that Iran has made great achievements in its defense sector and attained self-sufficiency in producing essential military equipment and systems in recent years.
Since 1992, Iran has manufactured its own tanks, armored personnel carriers, missiles, radars, boats, submarines, and fighter planes.
Iran also unveiled its first domestic long-range Unmanned Aerial Vehicle (UAV) in 2010.
Iran has always stated that its military might poses no threat to other countries and its defense doctrine is deterrence-based.
Related News