Ensuring smooth gas supply highly important for Turkmenistan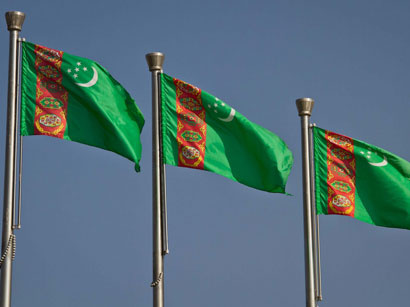 By Aynur Jafarova
Ensuring smooth gas supply to the foreign markets as stipulated by the agreements signed with Russia and Iran is of great importance for Turkmenistan.
This was announced by Turkmen President Gurbanguly Berdymukhamedov at a special meeting on April 11.
"First of all, it is necessary to ensure smooth natural gas extraction for the domestic market and smooth supply to the foreign markets based on the terms stipulated in the signed contracts," the president said.
Turkmenistan, which is rich in hydrocarbon reserves, has been transferring natural gas to the northern provinces of Iran since 1995. The Central Asian state has the world's fourth largest natural gas reserves after Russia, Iran, and Qatar. It produces about 70-80 billion cubic meters of gas a year.
Russia gets Turkmen gas via the Central Asia - Center pipeline, transited through Uzbekistan and Kazakhstan. Russian Gazprom Company acts as a buyer. The two countries signed an agreement on gas supplies for 25 years in 2003.
At this stage, the Central Asia - Center pipeline is not fully operative. Russia temporarily stopped importing Turkmen gas due to the breakdown in April 2009. The technical issues were resolved. Under the influence of the global recession, Russia has reduced purchases to 10-11 billion cubic meters since 2010, which is four times less than earlier.
Gazprom said in September 2013 that it expects a revision of the terms as the Turkmen gas purchase price was determined at the peak of European prices rise. The price of Gazprom gas sale to Europe was changed later.
Delivering of the Turkmen gas to Iran started after the inauguration of the Korpeje-Gurtguyi gas pipeline in 1995. The two neighboring countries opened additional capacities on the Dovletabad-Serakhs route in 2009.
Tehran and Ashgabat said earlier that they are negotiating to increase the volume of Turkmen gas exports to Iran.