11 February 2014 15:37 (UTC+04:00)
1 310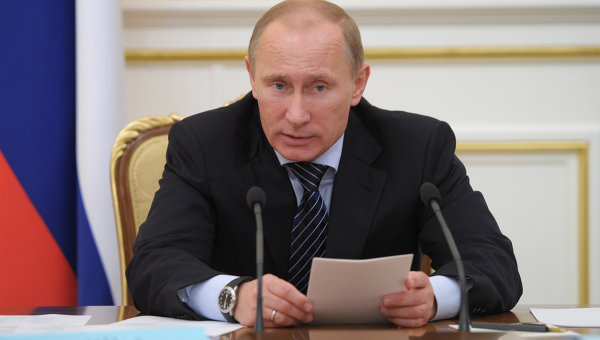 By Jamila Babayeva
President of Russian Vladimir Putin believes that the Olympic Games contributes to normalizing Russian-Georgian relations.
Russia is very glad for the Georgian team's joining the Olympic Games, he told journalists in Sochi.
"I believe that this is a very good sign, and the Olympic Games facilitate normalizing relations, even though it seemed impossible and very difficult," Putin said.
Flights from Tbilisi to Sochi have been resumed on the regular basis. "We have decided that we will continue this practice after the Olympics," he promised.
He said this is a positive side of the Olympic Games.
"The Olympic Games help to regulate relations with Georgia, and I am very happy about it. We wish good luck to the Georgian sportsmen," Putin said.
He mentioned that the Georgian team is one of the world leaders in judo - his favorite sport.
"We hope that the Georgian sportsmen will succeed and we wish them good luck," Putin said.
Speaking about the influence of the Olympics on relations between Russia and Georgia, Putin said that all this will facilitate normalizing relations with the closest neighbor - Georgia, with which Russia has very ancient and close relations.
He mentioned that he would not like the repetition of the previous tragedy. "We understand that this is not an easy process, but Russia intends to resume relations with Georgia," Putin said.
In reply to the Georgian journalists` question why on the map of Georgia shown at the Olympics Abkhazia and Tskhinvali district were covered by fog, Putin said that he did not pay attention to these details.
"This is nonsense. There is no need to make such stories," he said.
The Russian President did not exclude the possibility to meet with his Georgian counterpart. "If he wants, why not?" Putin said.
Georgian President Giorgi Margvelashvili intends to consult within the country and with foreign colleagues concerning a possible meeting with the Russian leader.
President Margvelashvili is thoroughly analyzing Russian leader Vladimir Putin's remark.
He stressed that he closely monitors any of President Putin's signals.
"The Georgian-Russian relations are one of the most painful and problematic ones for Georgia," the president said. "We will thoroughly analyze this remark, consult and form our position. If there is such an opportunity for such a meeting to give a positive momentum to the Georgian-Russian relations, of course, there is a basis for discussing these topics with colleagues to consult and consider the opportunity of such a meeting."
Georgia and Russia, its giant northern neighbor, have maintained no diplomatic relations since a brief war in 2008. Tbilisi broke off relations with Moscow in August 2008 when Moscow crushed a Georgian assault to reassert control over two rebel regions -South Ossetia and Abkhazia- and later recognized the regions. Georgia announced the two unrecognized republics as occupied territories in September 2008.
Related News