Kazakh embassy celebrates Independence Day in Baku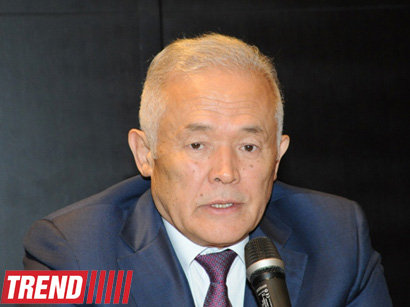 By Aynur Jafarova
Baku hosted an event dedicated to the 22nd anniversary of Kazakhstan's independence on December 11.
Organized by the Kazakh embassy in Baku, the event was attended by Azerbaijani government officials, heads and representatives of diplomatic missions accredited to Azerbaijan, and art and scientific figures.
Addressing the event, Kazakh ambassador to Azerbaijan Amangeldy Jumabayev said Azerbaijan and Kazakhstan established good and fraternal relations during the independence years.
"We give significant importance to the development of not only economic ties, but also ties in the cultural and other fields," he said.
Saying Azerbaijan is an important transit country for Kazakhstan, the ambassador pointed to the recent agreement on the annual transportation of four million tons of Kazakh oil via the Baku-Tbilisi-Ceyhan (BTC) pipeline.
With a total length of 1,768 kilometers, the BТС pipeline carries crude oil from the Azeri-Chirag-Gunashli oil fields in the Caspian Sea to the Turkish Mediterranean coast.
Tengizchevroil Consortium, which is engaged in developing Kazakhstan's Tengiz and Korolev oil fields, has signed an agreement to resume oil transportation through the BTC pipeline. Oil transportation through the pipeline had come to a stop in 2008.
Speaking at the event, Azerbaijani Minister of Labor and Social Protection of Population Salim Muslumov said Kazakhstan is one of Azerbaijan's main economic partners and the third place for the volume of trade turnover among the countries of the Commonwealth of Independent States (CIS) after Russia and Ukraine.
Kazakhstan eyes goods transportation via BTK railway
Jumabayev said at a press conference that his country is interested in transporting its goods via the Baku-Tbilisi-Kars railway.
Kazakh oil and grain may be carried by the railway, the ambassador said.
The Baku-Tbilisi-Kars railway is under construction in accordance with an inter-governmental agreement reached by Azerbaijan, Georgia, and Turkey. The railway will increase the flow of containers and other types of cargo from Asia to Europe.

Around 30 million tons of cargo a year will be transported via the Baku-Tbilisi-Kars railway line, which will become a direct route to the European rail network.
Jumabayev went on to note that the current volume of trade turnover between Kazakhstan and Azerbaijan doesn't correspond to the potentials of the two countries, and it is necessary to increase it.
Trade turnover between Azerbaijan and Kazakhstan amounted to $209.325 million in the first nine months of 2013.
The main products exported from Kazakhstan to Azerbaijan are mineral resources (oil and gas), chemical raw materials, grain, barley, tobacco products, rolled carbon steel, and electrical equipment.
Oil products made of bituminous materials, ethylene polymers, and machinery components are imported to Kazakhstan.
Azerbaijanis and Kazakhs are both Turkish-speaking nations and share close historical, religious, and cultural ties. Both are the littoral states of the Caspian Sea and possess a common maritime border.
About 130,000 ethnic Azerbaijanis live in Kazakhstan.
A solid legal basis has been established between the two countries. Azerbaijan and Kazakhstan have signed more than 90 documents, including 20 documents in the economic field, particularly on investment protection and avoiding double taxation. These documents positively affect the development of trade relations between the two countries.
About 740 enterprises with Azerbaijani capital operate in Kazakhstan, while 35 companies with Kazakh assets work in Azerbaijan.