25 November 2013 17:11 (UTC+04:00)
1 057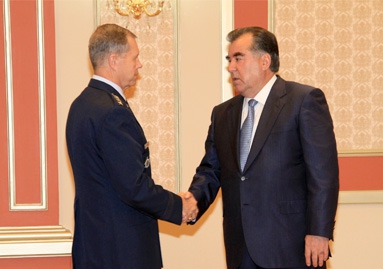 By Aynur Jafarova

Tajikistan will smooth the way for the transit of goods of NATO member countries from Afghanistan through its territory, according to remarks made by Tajik President Emomali Rahmon during a meeting with Commander of the U.S. Transportation Command General William Fraser III on November 22.

Rahmon said that an agreement signed by the Tajik government and NATO will comprehensively facilitate this work.

During the meeting the sides discussed a wide range of issues on cooperation in political, security, military, economic, and social spheres.

Particular attention was paid to the developments in Afghanistan and beyond it after the withdrawal of the NATO troops in 2014.

General Fraser, in turn, recalled Tajikistan's important role and its strategic geographic position in Central Asia and stated that the U.S. will further support the development of border management and material and technical supply of border troops, security, defense, customs structures and other relevant bodies for ensuring regional security.

NATO and Tajikistan are developing practical cooperation in a number of areas through the country's Individual Partnership Program, jointly agreed for a two-year period.

The key areas of cooperation include security and peacekeeping cooperation, especially counter-terrorism cooperation and border security, crisis management and civil emergency planning.

Tajikistan plays an important role in supporting Allied operations in Afghanistan through the hosting of French military aircraft at Dushanbe Airport.

Tajikistan joined NATO's Partnership for Peace program in 2002.
Related News