Rouhani receives over 70 pct of votes for Nobel Peace Prize in British daily's survey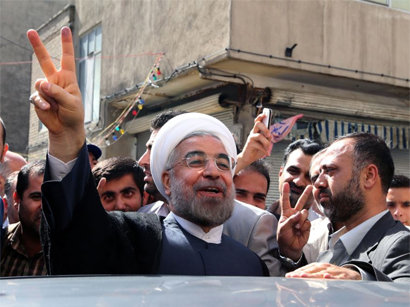 By Sara Rajabova
According to a survey by British daily The Guardian, over 70 percent of the online voters believe that Iranian President Hassan Rouhani is the most deserving candidate to receive this year's Nobel Peace Prize.
In the survey Rouhani is lauded for his recent overture, calling for the establishment of ties with the West based on mutual respect and understanding. It is said that as an ultimate insider who enjoys backing both from the country's supreme leader, Ayatollah Ali Khamenei, and its reform-seeking critics, like the Green Movement, can be best positioned to find a way out of current stalemate with Iran.
In his address to the 68th annual session of the United Nations General Assembly, Rouhani said Iran poses no threat to the world and Tehran is ready for talks on its nuclear energy program with complete transparency.
He stated that the Iranian nuclear energy program has always been a peaceful one, saying, "This has been, and will always be, the objective of Iran."
In the first direct communication between an Iranian and a US president since Iran's Islamic Revolution of 1979, Rouhani received a call from Obama on September 27 shortly before leaving New York, where he attended the 68th session of UN General Assembly.
The poll by Guardian does not reflect the Nobel committee's actual opinions.
In 2009, the U.S. President Obama won Nobel Peace Prize for his extraordinary efforts to strengthen international diplomacy and cooperation between peoples.
However, awarding Obama the peace prize was deemed as an early vote of confidence in the new president's policies, because of his intention to launch military action against the regime of Syrian President Bashar al-Assad.
According to the British The Independent daily, this year, also the Russian President Vladimir Putin has been nominated for the Nobel Peace Prize.
The Nobel Peace Prize has been awarded to 124 Nobel Laureates since 1901.
The Nobel Prize is a set of annual international awards bestowed in a number of categories by Swedish and Norwegian committees in recognition of cultural or scientific advances.