Iran prevents drug smuggling on its eastern border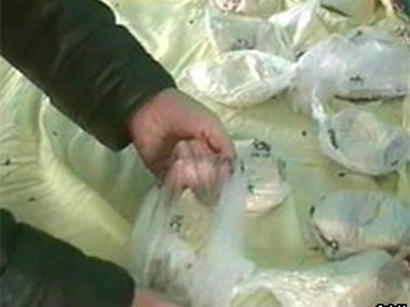 By Sara Rajabova
Iran's border police has seized some 450 kilograms of drugs including 19 kilograms of heroin on the country's eastern border during the last two days, Fars news agency reported.
The police impounded some 413 kilograms of opium from drug smugglers in the waters of Jask port in Hormozgan Province, deputy head commander of the border security Mohammad Reza Tavousi said.
He also said 30 kilograms of opium and 19 kilograms of heroin were seized by the police near the borderline city of Zabol in Sistan and Baluchestan Province.
Some of the smugglers were arrested, the report said.
Also, in July it was reported that Iranian drug combat squads seized over 8 tons of narcotics in the eastern province of South Khorassan in the current Iranian year, which started March 21.
Iran lies on a major drug route between Afghanistan and Europe, as well as the Persian Gulf states, and shares about 900 kilometers of a common border with Afghanistan, through which about 74 percent of opium is reportedly smuggled.
Iran's location has made the country a favorite transit corridor for drug traffickers who seek to smuggle their cargo from Afghanistan to drug dealers in Europe.
Iran has been actively fighting drug trafficking. According to official estimates, the fight against drugs annually costs Iran about $1 billion. The statistics also say that there are about 2 million drug users in Iran.
500 tons of drugs were reportedly seized during the last solar year and 115 tons during the first three months of the current solar year.
Owing to its rigid efforts, Iran makes 89 percent of the world's total opium seizures and has turned into the leading country in combating drugs.
Every year, Iran burns more than 60 tons of various seized drugs as a symbol of its determination to fight drugs.