Iran's president says he is not involved in nuclear talks anymore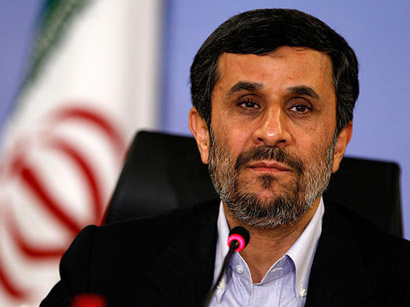 Iran's President Mahmoud Ahmadinejad said that he is not involved in nuclear talks anymore.
During a live speech to people, published on state TV, The IRIB Channel 1reported that Ahmadinejad made this statement on July 3, however he didn't said when he excluded from nuclear negotiations with P5+1.
Iran's officials always assured that Supreme leader Ayatollah Ali Khamenei is key person in issues over Iran's nuclear programme.
Ahmadinejad announced his latest nuclear proposal for the west in April 2010, saying that Iran is ready to exchange 1,300 kg of its 3.5 per cent enriched uranium reserves (UF6) with 20 percent refined fuel for using in a five megawatt Tehran nuclear reactor.
Previously he had spoken repeatedly about his suggestions to western countries to eliminate the nuclear dispute.
However, former head of the Atomic Energy Organisation of Iran, Gholam-Reza Aghazadeh said on July 2 that western countries had sent some signals for resolving the nuclear dispute for Iran in 2008, but Ahmadinejad opposed the proposals, while Khamenei was not against them.