Georgia says wants to mend ties with Russia, but not at the expense of territory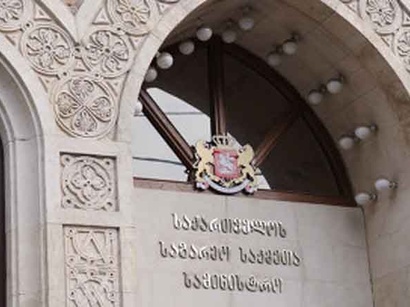 By Sabina Idayatova
Georgia wants to improve its relations with Russia, but not at the expense of its territory, Georgian Foreign Minister Maia Panjikidze said Tuesday in Strasbourg.
A Georgian delegation attends the Parliamentary Assembly of the Council of
Europe (PACE) spring session, which is taking place in the French city April 22-26.
According to Panjikidze, Georgia has already taken the first steps to normalize its relations with Moscow and expressed the willingness to restore trade and cultural ties.
"Our policy is absolutely clear. We want to improve relations with Russia, that is very important for Georgia, but we will not give up the basic postulates of our country, which are the territorial integrity, European integration, NATO membership," Panjikidze said.
Georgia and Russia, its giant northern neighbor, have maintained no diplomatic relations since a brief war in 2008. Tbilisi broke off relations with Moscow in August 2008 when Moscow crushed a Georgian assault to reassert control over the two rebel regions -- South Ossetia and Abkhazia -- and later recognized the breakaway regions. Georgia announced the two unrecognized republics as occupied territories in September 2008.
We recall that the head of the foreign affairs committee at Russia's State Duma (lower house of parliament), Alexei Pushkov, told journalists on Monday that the Russian delegation to PACE intended to raise a question before Georgian Prime Minister Bidzina Ivanishvili, who was to deliver a speech at PACE on Tuesday, over the Georgian government's change of foreign policy toward Russia.
Pushkov said the questions addressed would be related to what extent Ivanishvili intends to change the Georgian foreign policy, in particular, that toward Russia, as all official statements of the Georgian government have so far been in line with the foreign policy course conducted by President Mikheil Saakashvili.