Moscow denies draft period extension plan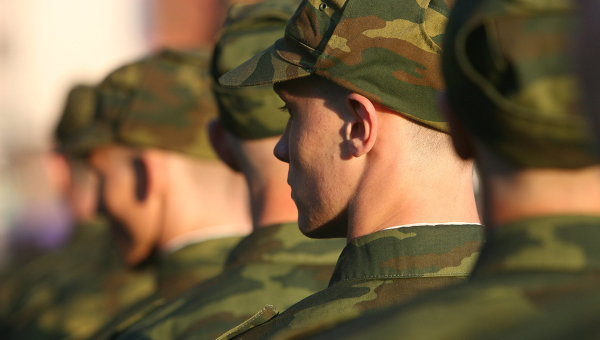 The Kremlin on Thursday denied Russian media reports suggesting the period of mandatory military service for young men would be extended from a year to 18 months, RIA Novosti reported.
"No, that issue is not on the agenda today," said President Putin's press spokesman Dmitry Peskov. "There is an unequivocal position on this - to support one year [of service]," Peskov told Dozhd TV.
"This was Putin's decision and promise, and no-one intends to review that pledge," he added.
The Duma Defense Committee's Vladimir Komoyedov, a former Black Sea Fleet commander, told Izvestia cutting the draft to a year was "a political measure that had a bad effect on the army's preparedness."
He was also quoted as saying he would call on newly-appointed Defense Minister Sergei Shoigu to extend the draft period, in response to falling numbers of young men available for call up due to the country's continuing demographic downward spiral.
Claiming that one year of military service is insufficient to train specialists, he added that the Duma Defense Committee would call for the draft service term to be reviewed.
The Defense Ministry denied any such plan is in the offing.
"The question of altering the military call-up term is not being considered at present," said the Defense Ministry's High Command Mobilization Directorate's head, Col. Vasily Smirnov.
Russia's High Command had earlier responded to Komoyedov's comments by saying it was "not against" an extension of the call-up period, which would allow better training of soldiers.
"If there was such a draft law put forward, I think we would not be against it being passed," High Command Mobilization Directorate spokeman Col. Alexei Knyazev said.
Human rights campaigners condemned the proposal, arguing it would be the end of military reform.
"I think this suggestion would sound the death-knell for military reform," said Sergei Krivenko, a member of the Presidential Human Rights Council and leader of the "Citizen and Army" pressure group. "A year and a half won't be enough - then it will be two or two and a half, and again this will lead to social tension. Then we'll have hazing, and all the old problems."
The latest initiative is not the first effort by those opposed to military reform to turn the clock back, he noted.
"All these initiatives are part of the struggle to delay and hold back military reform," he said. The forces need to further develop the contract (professional) system in order to increase the term soldiers serve, he said.
Military service is mandatory for all Russian men from 18 to 27, although there are exemptions for those in higher education, those found medically unfit and those who are the fathers of two or more children. Draft-dodging is widespread, as army service remains extremely unpopular due to the lack of pay, poor service conditions, and widespread hazing, resulting in hundreds of non-combat deaths in the services every year.
Prosecutor General Yury Chaika reported in April 2011 that 478 soldiers died in Russia in 2010 in non-combat situations, down 14 percent on 2009.