Over 1.3 million S. Korean women quit jobs after marriage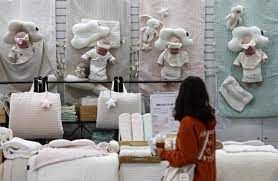 One out of every 6 South Korean married women has suffered a career break due mainly to pregnancy and child-rearing, data showed Tuesday, Azernews reports, citing Yonhap News Agency.
The number of married women aged 15-54 who stopped working came to 1.35 million as of April, accounting for around 17 percent of the total of 7.94 million married women in the age group, according to the data from Statistics Korea.
This year's figure of women experiencing a career break fell 3.45 percent on-year, or 48,000, as the total female population of the age group has fallen by 159,000, the agency said.
Among the married women who quit their jobs, the largest proportion of 42 percent cited child-rearing as the primary reason for their decision.
Some 26 percent said they stopped working due to getting married, followed by 23 percent for pregnancy and childbirths, and 4 percent for child education.
By age, those in their 40s took up the largest share of the married women quitting their jobs with 43.8 percent, followed by the women aged 30-39 with 40.33 percent.
The number of working mothers with children aged under 18 came to 2.61 million in April, and their employment rate came to 60 percent.
The employment rate for all of the country's married women aged 15-54 reached 64.3 percent as of April, up from 62.6 percent the previous year, the data showed.
South Korea has been struggling with a chronic decline in childbirths as a growing number of young people have opted to distance themselves from marriage and having children.
The country's total fertility rate -- the average number of children a woman bears in her lifetime -- came to a record low of around 0.7 this year.
Of the total female population aged 15-54, the married women accounted for 58.4 percent as of April, the agency said.