Turkish flag carrier THY to mark republic's centenary with 400th plane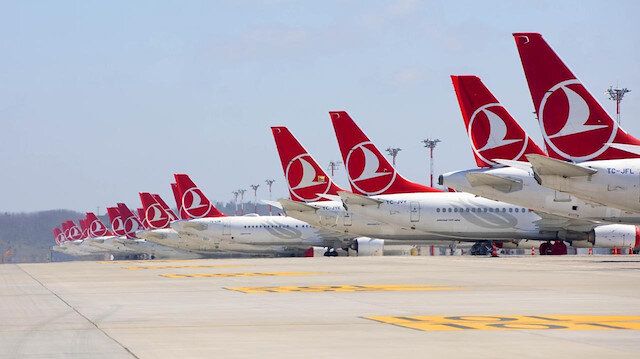 By News Center
Turkish Airlines (THY), which has risen to the next level in aviation with the investments it has made in the recent 20 years, has made a strong entry into the Turkish century. The national carrier THY makes a name for itself all over the world, from the number of passengers to its state-of-the-art fleet, from cargo to newly opened destinations. Turkish Airlines, which was established on May 20, 1933, as a State Airlines Operation affiliated with the Ministry of National Defense, today has a fleet of 393 planes, of which 263 are narrow-body, 110 are wide-body, and 20 are cargo planes.
THY, Turkiye's global flag carrier, has become a global brand in the meantime. With 342 destinations in 129 countries, it became the airline that flies to the most international destinations in the world. Stating that they have achieved a remarkable rise in the global aviation industry with the investments they have made in the last 20 years, Turkish Airlines President and CEO Prof. Dr. Ahmet Bolat said the following.
"As THY, we were flying to 53 countries, 104 cities, and 106 destinations in 2003. With the capacity expansions we have made, there are currently 129 countries, 337 cities, and 342 destinations in our flight network. With this network, we continue to grow as the airline that flies to most countries in the world."
Stating that they have made serious investments in the purchase of planes within the scope of Turkiye's vision and century, Bolat said:
"We have increased our fleet 6 times in the last 20 years. We have managed to manage the 9th largest fleet in the world, consisting of 393 planes, from the 65 planes fleet in 2003. While in 2003, only 12 of our fleet of 65 planes were wide-body, today we have increased the number of wide-body aircraft more than 9 times to 110. Thus, we have increased our fleet 6 times in the last 20 years. With our rapid plane procurement investments within the scope of our strategy of opening up to the world with growth and acceleration, we procured our one-hundredth plane in 2006; our 200th in 2012 and we took delivery of our 300th plane in 2016. On the 100th anniversary of our republic, we will have our 400th plane."
Emphasizing that they have grown with high-efficiency, environmentally friendly, and higher-capacity aircraft by removing planes with a low performance from the fleet, Bolat said, "As we take delivery of new planes, and planes that have completed their operational life abandon the fleet, we will both increase this rate and reduce our fleet age."
Expressing that they will concentrate on increasing the number of passengers they carry, he pointed out that while serving 10.4 million passengers in 2003, they grew 2.3 times faster than the world average between 2009 and 2019 and welcomed 74.3 million passengers in 2019. Bolat continued: "In 2020 and 2021, we became the airline with the most flights in Europe among network carriers. We carried 44.8 million passengers in 2021. In 2022, we reached 96.7% of the 2019 level by carrying 71.8 million passengers."
Stating that THY has reached a position that shapes the market in cargo transportation, Bolat, Chairman of the Board of Directors, said:
"The 122,822 tons of cargo and mail we transported in 2003 has multiplied over the years, reaching 1,678,953 tons with 21 cargo planes at the end of 2022. We rose from 43rd to 5th place in cargo transportation. Our SMARTIST facility, our biggest cargo investment in recent years, has an annual cargo handling capacity of 2 million tons. When the second phase is completed, we will have an annual cargo handling capacity of 4 million tons. We will continue to be one of the leading air cargo companies in the sector in the future with our investments and technological improvements."
Bolat said, "As Turkish Airlines, we have been growing with the responsibility of being the flag carrier of our country in the last 20 years, while also making a significant contribution to our country's development process and employment. The number of our employees, which was 10,239 in 2003, has exceeded 65,000 together with our subsidiaries, 29,600 of whom are the main brands in 20 years. Today, we have come a long way compared to 20 years ago in terms of personnel efficiency, both in the number of personnel per aircraft and in the number of personnel per passenger. However, with the recruitment processes we carry out with great care, we no longer only recruit pilots from outside, but also train our pilot candidates ourselves and include them in our family."
Turkish Airlines has become the official and first airline sponsor of the UEFA Champions League, one of the most followed sports events on an international scale, since 2022. This prestigious cooperation, which is one of the most essential sponsorships in the history of Turkish sports, is also of particular importance in that the UEFA Champions League Final will be held on June 10, 2023, at the Istanbul Ataturk Olympic Stadium. Since 2010, THY is also the title sponsor of the EuroLeague, the most distinguished organization of European basketball at the team level.
---
Follow us on Twitter @AzerNewsAz