Expert: Geopolitical interests of U.S. and EU not always compatible (Exclusive)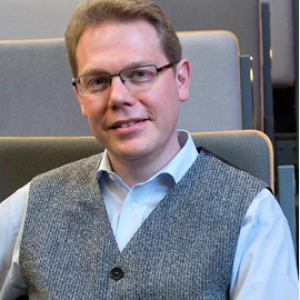 By Kamila Aliyeva
Brussels now realizes openly that the geopolitical interests of the U.S. and the European Union are not always compatible, Dr. David Criekemans, an expert in geopolitics and international politics and assistant professor at the University of Antwerp said in an interview with Azernews.
He was commenting on the consequences for the U.S.-European relations following U.S. President Donald Trump's decision to withdraw from the Iranian nuclear deal .
He recalled that French president Macron recently tried to change Trump's mind by proposing to encompass the JCPOA in a wider agreement concerning Iran's rocket program and its increasing regional activities in countries such as Syria.
"France and Germany seek to trade with this emerging power. Companies such as Renault and Airbus have been queuing in line for the past couple of months. Many European countries see Iran as a reliable ally for the future," Dr. Criekemans noted.
Moreover, in today's world, natural gas is gaining more and more recognition and can become a 'bridge fuel' towards a renewable energy future.
The expert stressed that the Islamic Republic disposes of large supplies of natural gas.
"Europe can also forge new economic connections with Iran. France has been exceptionally successful in doing so for the last years. Total managed to broker a 4.8 billion dollar contract for exploiting natural gas fields in southern Iran. Renault even signed a 780 million dollar deal for manufacturing 300.000 cars by 2023. Royal Dutch Shell is also said to invest in the Iranian energy sector," he added.
Above all, Iran has signed contracts for airplanes worth billions of dollars with both the European Airbus and the American Boeing, according to Dr. Criekemans.
"Once ten to fifteen percent of components in such planes are American in origin, as they are in the case of Airbus, Trump's new anticipated extraterritorial fines may also hit the European airplane builder. A European-Iranian economic cooperation would be very efficient and profitable," he said.
Europe now has to pursue a diplomatic 'mission impossible' by attempting to sustain the renewed economic ties with Iran, according to the expert.
In the new multipolar world-in-the-making, Washington is no longer seen to be a beacon of stability, Dr. Criekemans believes.
"Brussels' new geopolitical strategy will have to consist in conducting a new 'balance politics' with the other 'poles' in the multipolar system, Moscow, Beijing, Tokyo, London, etc.," he said.
Washington is slowly but certainly being degraded in the minds of European politicians into being only one of these poles, Dr. Criekemans concluded.
On May 8, President Donald Trump announced that the United States walks away from the accord reached in 2015 between Tehran and the six world powers. Trump also announced that the U.S. will re-impose the nuclear-related sanctions on Iran's economy and oil exports, which were waived under the JCPOA.
Whilst the sanctions are effective immediately, there is a wind-down period of 90- or 180-days to allow firms to exit any existing agreements they have with Iran. Trump has also hinted that he might impose additional sanctions on top of those which were waived.
Iran and the five permanent members of the United Nations Security Council – the United States, the United Kingdom, France, China and Russia – plus Germany signed the landmark nuclear deal on July 14, 2015 and started implementing it on January 16, 2016.
The agreement limits Iran's nuclear activities in exchange for, among other things, the removal of all nuclear-related bans against the Islamic Republic.
---
Kamila Aliyeva is AzerNews' staff journalist, follow her on Twitter: @Kami_Aliyeva
Follow us on Twitter @AzerNewsAz