11 December 2017 16:01 (UTC+04:00)
3 130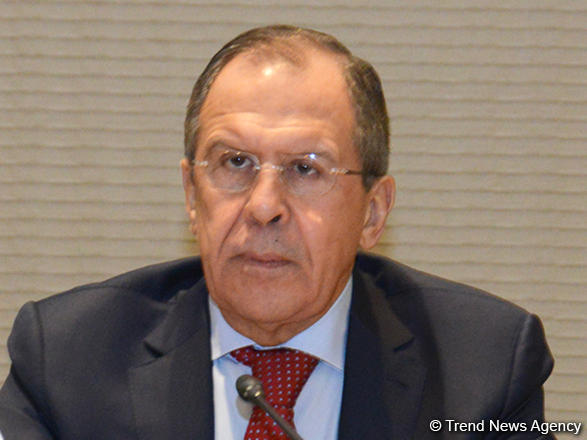 By Kamila Aliyeva
The situation on the Korean peninsula remains extremely tense and can only be resolved politically and diplomatically in line with the Russian-Chinese road map.
This was stated by Russian Foreign Minister Sergei Lavrov following the fifteenth meeting of the Foreign Ministers of RIC (Russia, India and China), RIA Novosti reported.
"We exchanged opinions on the situation on the Korean Peninsula, it is extremely tense. We consider it inadmissible to aggravate military tension and military confrontation, which can turn into a hot state from the propaganda," he said.
During the meeting, the ministers stressed the absence of an alternative to solving this problem exclusively by political and diplomatic means in line with the corresponding Russian-Chinese road map, according to Lavrov.
Earlier, U.S. Ambassador to the UN Nikky Haley told Fox News Sunday that Beijing and the rest of the international community are following through with sanctions against Pyongyang for developing its nuclear weapons programme. She then commended Washington for leading the charge.
"But to be clear, China can do more. And we're putting as much pressure on them as we can. The last time they completely cut off the oil, North Korea came to the table. And so we've told China they've got to do more. If they don't do more, we're going to take it into our own hands and then we'll start to deal with secondary sanctions," Haley said.
She also warned that if North Korea attempts to threaten the United States or any one of its allies, it will be utterly destroyed.
"You know, diplomacy is great in some respects, but you have to also be honest. North Korea has pushed the envelope to an extreme level," Haley added.
Pyongyang conducted its first ballistic test launch on November 28. The missile was reported to have flown for 50 minutes on a very high trajectory, reaching 4,500 km above the earth before coming down nearly 1,000 km from the launch site off the west coast of Japan, according to the South Korean Chiefs of Staff Committee.
November 28 marked the first missile launch carried out by North Korea since September 15. Since then, for 75 days, Pyongyang has refrained from military provocations.
The active phase of the crisis on the Korean peninsula began in August 2017, when Pyongyang tested ballistic missiles and announced the successful testing of the hydrogen bomb.
The United Nations Security Council has unanimously imposed a set of sanctions against North Korea on September 11 over the country's hydrogen bomb test which was conducted on September 3.
The sanctions included limits on import of crude oil and oil products, a ban on textile exports and new visas for North Korean oversees workers.
---
Kamila Aliyeva is AzerNews' staff journalist, follow her on Twitter: @Kami_Aliyeva
Follow us on Twitter @AzerNewsAz
Related News