7 November 2017 10:05 (UTC+04:00)
1 812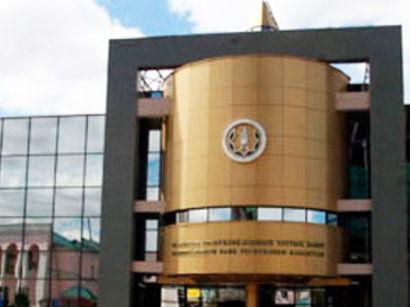 By Kamila Aliyeva
Kazakhstan eyes increase in export of goods which will further contribute to the growth of the country's economy.
The export of Kazakh goods amounted to $35.1 billion in January-September, showing an increase of 31.1 percent, or $8.3 billion compared to the same period of last year.
This was reported by the National Bank's press service on November 6.
The cost of export of oil and gas condensate increased by 36.6 percent, exports of ferrous and non-ferrous metals - by 59.1 percent and 20.9 percent, respectively, according to the bank.
The current account of Kazakhstan in January-September 2017 was formed with a negative balance of $5 billion, which is 16.4 percent less than the current account deficit received in the same period in 2016, the report said.
Imports of goods amounted to 23.1 billion dollars, showing an increase of 15.6 percent. The growth in imports occurred across all groups of the main commodity nomenclature. As explained, the greatest increase occurred in the import of consumer non-food products and intermediate industrial consumption goods.
As a result, the trade surplus rose by 77 percent to $12 billion. The negative balance of the investment income balance for January-September of this year was 12.3 billion dollars, due to the growth of payments to foreign direct investors by 1.5 times.
More than half of these revenues were invested by foreign direct investors in subsidiaries in Kazakhstan.
Net capital inflows on the financial account (excluding operations with reserve assets of the National Bank), according to preliminary data, amounted to $6.6 billion.
On direct foreign investment (FDI), the net inflow of capital was $ 3.3 billion. Significant payments for the repayment of intercompany debt to affiliated persons, made by Kazakhstani enterprises in the third quarter of this year, contributed to a reduction in net inflow of FDI, the report noted.
Net inflow of capital for portfolio investments was $8.4 billion due to the reduction of resident assets placed in foreign securities, as well as the issuance of Eurobonds on international capital markets by the non-bank sector.
The outflow of financial resources from the country for other investments is mainly linked to the growth of short-term assets of residents in foreign accounts. Reserve assets (excluding assets of the National Fund) as of October 1, 2017 were estimated at $32.2 billion.
The economic growth in Kazakhstan is expected to accelerate to 2.2 percent in 2017 and to 4.7 percent for the nine months of 2018.
Economic growth in this period will be provided due to the growth in domestic consumption amid rising real wages, the growth of investment in fixed assets in the framework of the implementation of government programs to support and diversify the economy, and the growth of production of mineral resources (the Kashagan effect).
---
Kamila Aliyeva is AzerNews' staff journalist, follow her on Twitter: @Kami_Aliyeva
Follow us on Twitter @AzerNewsAz
Related News