Doha refused Saudi Arabia's offer to deliver Qatari pilgrims to Mecca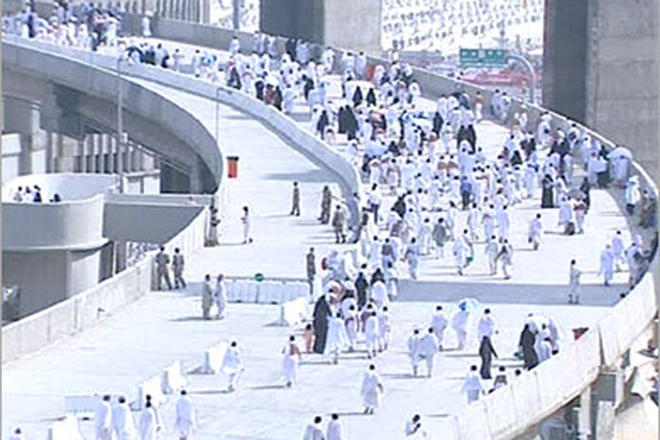 By Ali Mustafayev
Doha has refused Saudi King's offer to transport all Qatari pilgrims seeking to perform this year's Hajj pilgrimage at his expense, stressing that Saudi Arabia must permit Qatar's own airlines to transport Hajj pilgrims to Mecca rather than forcing them to rely on the kingdom's national carrier.
"It is usual and customary for pilgrims to be transported from any country by means of national air, land and sea transportation in that country," Qatar's Foreign Affairs Ministry's official, Ahmed al-Rumaihi, said.
"Pilgrims from Qatar don't need financial assistance from the Saudi side for the Hajj. Restrictions on transportation only with Saudi airlines is unprecedented and illogical," he added.
The remark was made following Qatar's denial of having blocked Saudi flights from landing in the emirate to take pilgrims to the annual Hajj in the kingdom, after Saudi Arabian Airlines claimed that one of its airliners had been prevented from landing at Hamad International Airport in Doha.
Last week, Riyadh announced that it would open its borders with Qatar to allow Muslim pilgrims reach the holy city of Mecca to perform Hajj but it imposed several travel restrictions, including flying in only on airlines approved by Saudi Arabia.
Qatari authorities had subsequently accused Saudi Arabia of politicizing Hajj and jeopardizing the pilgrimage to Mecca by refusing to guarantee their pilgrims' safety.
Later, Saudi media reported that Qatar has blocked Saudi planes from transporting Hajj pilgrims.
"Qatari authorities have not allowed the aircraft to land as it did not have the right paperwork, although the paperwork was filed days ago," the state-run Saudi Press Agency said.
However Doha refused the information regarding blocking the Saudi jets from landing.
The officials from the Qatar Civil Aviation Authority "described as baseless the news... that allegedly claimed that the state of Qatar refused to allow Saudi Airlines to transport the Qatari pilgrims," according to QNA news agency.
Saudi Arabia, Bahrain, Egypt, and the United Arab Emirates cut their diplomatic ties and transport links with Qatar in early June, accusing it of sponsoring terrorism and close ties with Iran. Doha rejects the claims.
The four states issued a 13-point list of demands to end the standoff, which also included withdrawal of Turkish military base.
Doha refused to comply with the demands, stating that it is a matter of its internal policy and the intervention is not permissible.
---
Follow us on Twitter @AzerNewsAz