Turkmenistan to head Int'l Fund for Saving Aral Sea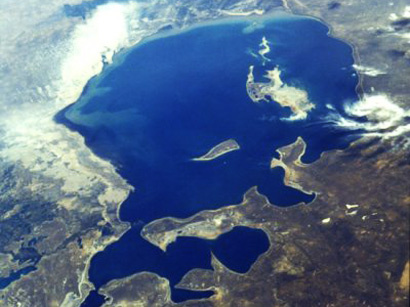 Turkmen President Gurbanguly Berdimuhamedov signed a decree to address issues related to the upcoming chairmanship of Turkmenistan at the International Fund for Saving the Aral Sea (IFAS) in 2017-2019, the Turkmen government reported.
"Speaking from the standpoint of broad international cooperation in the environmental field, neutral Turkmenistan is implementing large-scale projects and is taking active steps to develop balanced solutions to topical issues of regional and global agenda, attaching great importance to issues of saving the Aral Sea, as well as the improvement of social and environmental conditions in its basin," the Turkmen State News Agency reported.
The IFAS was established in 1993 to support scientific and practical research and organize financing social and economic and environmental programs in the region aimed at improving environmental situation of Aral Sea region.
The Aral Sea, in Central Asia, used to be the fourth largest lake in the world, after the Caspian Sea, and Lakes Superior and Victoria. Now barely 10% of it is left.
This must be one of the most dramatic alterations of the Earth's surface for centuries.
The two biggest rivers of Central Asia used to feed the Aral Sea: one - the Syr Darya - from the north; the other - the Amu Darya - from the south. The Soviet government decided in the 1960s to divert those rivers so that they could irrigate the desert region surrounding the Sea in order to favor agriculture rather than supply the Aral Sea basin
What had been one sea, divided first into two separate salty lakes, the Large Aral to the south, about half of it in Uzbekistan, and the Small Aral to the North, in Kazakhstan, BBC reported.
The Large Aral then split into eastern and western basins. In October 2014, the eastern sea disappeared, leaving just the Small Aral and the western basin.
--
Follow us on Twitter @AzerNewsAz