Turkmenistan to increase gas production in 2013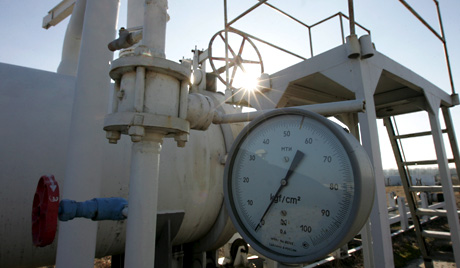 By Aynur Jafarova
Turkmenistan intends to increase natural gas production by 77 billion cubic meters in 2013, 44 billion cubic meters of which is designated for export.
As one of the key players on the gas market of the resource-rich Caspian region and Central Asia, Turkmenistan also aims to optimize its current capacities in the gas sector this year, Azerbaijan's Trend news agency reported on Friday.
These goals are outlined in the five-year program on the development of the oil and gas industry of Turkmenistan for 2012-2016, approved by Turkmen President Gurbanguly Berdymukhamedov.
According to the program, in 2012, production of natural gas was to reach 69 billion cubic meters, with most of the volume also meant for export.
Gas consumption in the country in 2011 totaled 25 billion cubic meters or 10 percent more compared to 2010.
According to a British Petroleum report, in 2011, Turkmenistan produced 59.5 billion cubic meters of gas, which is 40.6 percent more than in 2010.
Last year, Turkmenistan's share in global natural gas production was 1.8 percent.
The main consumers of Turkmen gas are China, Iran and Russia.
Turkmenistan ranks fourth on natural gas reserves after Russia, Iran and Qatar.
The largest fields are located in the east of the country at Mary province -- at Southern Yoloten - Osman (they were merged and were renamed as Galkynysh) and Yashlar with total resources valued by local geologists and British Gaffney, Cline & Associates (GCA) at 26.2 trillion cubic meters.
The Turkmen leader said earlier that Turkmenistan is constantly expanding export volumes of natural gas.
"Much work is being done to diversify natural gas supplies to international markets, which is one of the priorities of the energy policy of our sovereign state," Berdymukhamedov said.
According to him, innovations introduced in the oil and gas industry, existing and newly discovered sources of hydrocarbon resources and the high pace of work on the industrial development of the Galkynysh gas field contribute to the steady increase in the capacities of the country's fuel and energy complex.
The Galkynysh gas field is recognized as the second largest deposit in the world. It will be commissioned in the summer of 2013.