President Aliyev: Azerbaijan, Iran model of stability, despite tensions in region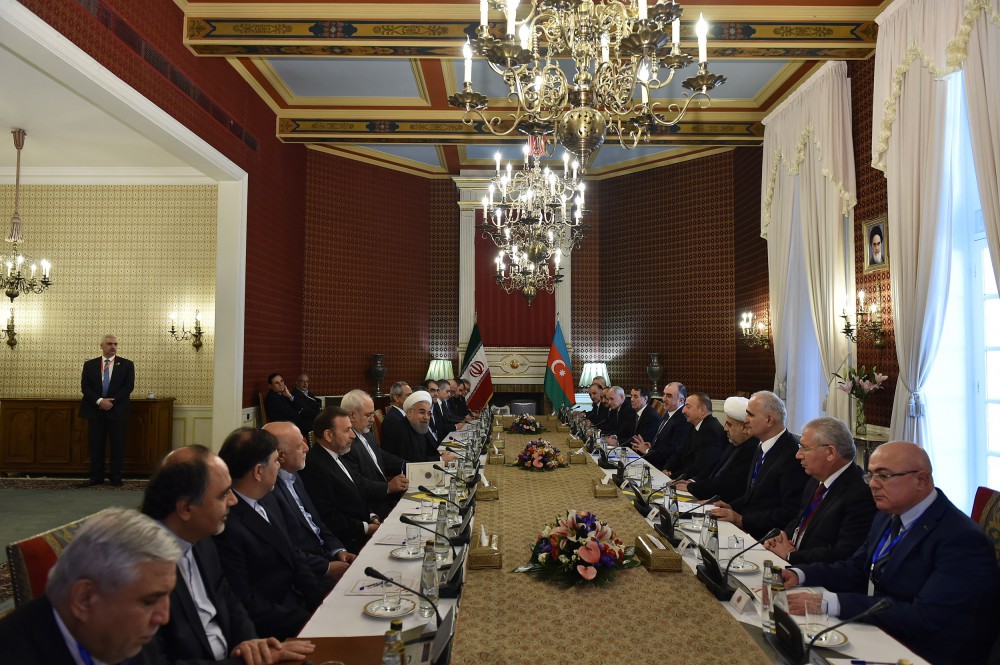 Azerbaijani President Ilham Aliyev and Iranian President Hassan Rouhani held talks in Tehran Feb. 23 in an expanded format with participation of delegations.
The expanded meeting took place following a one-on-one meeting on the same day.
During the meeting, Rouhani said the official visit of Azerbaijani president to Iran is very significant and will make an important contribution to further development of cooperation between the two countries.
Today, cooperation develops rapidly and covers all areas, he said.
Iranian president also stressed that the documents to be signed during the Azerbaijani president's visit to Tehran will contribute to the development of relations.
He went on to praise the work of the Azerbaijan-Iran state commission on economic, trade and humanitarian cooperation.
Rouhani added that the current development of relations between Iran and Azerbaijan is based on friendship and historical closeness of the two countries and their peoples.
He added that the relations have already reached the level of strategic partnership and further promotion of relations in all spheres is an important task.
Stressing that Iran is committed to the principle of territorial integrity of states, President Rouhani said his country recognizes the territorial integrity of Azerbaijan, adding that it is unacceptable to interfere in the internal affairs of states in international relations.
Iranian president also highlighted the importance of cooperation between the two countries in the area of security.
In turn, Azerbaijani President Ilham Aliyev said the relations between the two countries have a long history and are built on a solid base. He also congratulated the Iranian president and the people of Iran with the lifting of sanctions.
Saying the positions of Azerbaijan and Iran coincide on many issues, President Aliyev stressed that Azerbaijan and Iran are a model of stability, despite the tensions in the region.
Azerbaijani president also noted the importance of fair approach, stability and security in international and interstate relations, and stressed the importance of cooperation in the fight against terrorism.
During the meeting, the parties also stressed the need to step up efforts to develop cooperation in the economic area, including energy, investment and banking sectors, commercial and transport sectors, transportation, infrastructure, culture and others.
It was also stressed that the Caspian Sea is a sea of friendship and cooperation.
The sides also discussed possibilities for Azerbaijan and Iran to cooperate together with other countries.
At the meeting, the parties also expressed concern over the increase of Islamophobic tendencies and also held discussions on prevention of such cases.
---
Follow us on Twitter @AzerNewsAz