Azerbaijan's borders under vigilant protection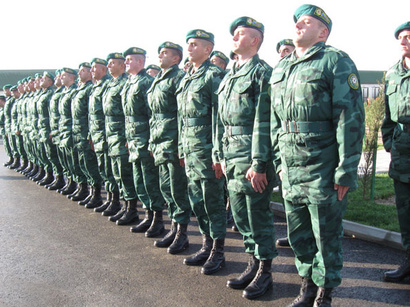 By Sara Rajabova
Azerbaijan's Border Service marks 96th anniversary of its establishment on August 18.
The country's border guards are implementing enormous works in ensuring the security of Azerbaijan's borders.
Over the years, especially after Azerbaijan gained independence in early 1990s, the state border service has passed a rigorous stage of development under the leadership of Azerbaijan's national leader Heydar Aliyev and President Ilham Aliyev.
Following the Cabinet of Ministers of the Azerbaijan Democratic Republic law on the establishment of the border service on August 18, 1919, Azerbaijan's border came under the protection of an additional 99 border posts.
Today, the Azerbaijani border service conducts operations in accordance with the requirements of new challenges of the modern era and is capable of resolving security issues at the highest level.
"Terrestrial and aquatic borders of Azerbaijan are under the strict control and are vigilantly protected," Colonel-General Elchin Guliyev, chief of the Azerbaijan State Border Service and commander of Border Troops said in his interview to Azerbaijan newspaper.
Guliyev said if the establishment, development, and improvement process under the State Border Service successfully continues, then it means that the protection of country's borders is rapidly rising.
"Regardless of landscape, climate and the circumstances, Azerbaijan's borders are vigilantly protected. The opening of numerous new border checkpoints, garrison complexes, the use of the most modern technical equipment have increased the level and reliability of protection of our borders," the minister said.
Guliyev noted that today each Azerbaijani border guard is proud to serve under the under the command of Azerbaijani President Ilham Aliyev and serves with dignity for the inviolability of state borders.
"Azerbaijani Border Protection is optimistic about its future. The optimism is based on the wise policy pursued by President Aliyev and important victories obtained under his leadership," he said.
Guliyev also highlighted the improvement of border services and conditions for service and personnel.
He noted that as a result of reforms, the management system of the State Border Service has been improved, border checkpoints have been equipped with modern technical equipment, the material and technical base significantly has been strengthened, and the service and living conditions of the staff has been improved.
The history of the national border service in Azerbaijan dates back to 1918. The Poylu border post was created for the first time in Azerbaijan on June 22, 1918.
Azerbaijan has a 765 km border with Iran and 15 km with Turkey in the southwest, 390 km with Russia in the north, 480 km with Georgia in the northwest and 1007 km with Armenia in the west.
Part of the country's western borders was placed under the Armenian control after it occupied 20 percent of Azerbaijan's internationally-recognized territory in 1990s.
--
Sara Rajabova is AzerNews' staff journalist, follow her on Twitter: @SaraRajabova

Follow us on Twitter @AzerNewsAz