3 July 2015 15:21 (UTC+04:00)
1 681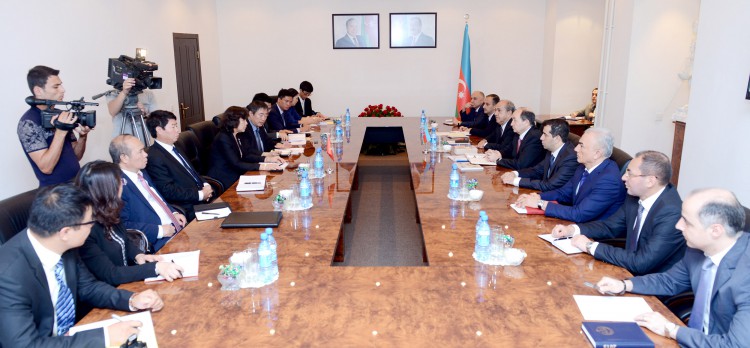 By Laman Sadigova
Azerbaijan`s Justice Minister Fikrat Mammadov held a meeting with Le Thi Thu Ba, the deputy head of Vietnamese Central Steering Committee for Judicial Reform to discuss prospects of developing the bilateral judicial cooperation.
Mammadov stressed dynamic development in the relations between the two countries. He recalled Azerbaijani national leader Heydar Aliyev`s visit to Vietnam as well as Vietnamese leader Ho Chi Minh`s visit to Azerbaijan. The minister said the reciprocal visits of the heads of state played a profound role in tightening the bilateral ties between the two countries.
He also highlighted reforms in Azerbaijan`s judicial system.
Thu Ba, in turn, noted Vietnam`s interest in expanding its relationship with Azerbaijan in a variety of fields, including judicial one.
She hailed Azerbaijan`s supporting Vietnam in its struggle for independence, and also stressed national leader Heydar Aliyev`s assistance in increasing professional skills of oil workers, lawyers and soldiers.
Mammadov further informed the Vietnamese delegation about the Armenian-Azerbaijani Nagorno-Karabakh conflict, saying it resulted in the occupation of 20 percent of Azerbaijan`s lands and emergence of more than a million refugees and IDPs.
Azerbaijan`s Ambassador to Vietnam Anar Imanov was present at the meeting.
Improved ties between Azerbaijan and Vietnam, countries with the fast growing economies in strategically important regions, represents a great opportunity for them and their otrade partners.
According to the State Customs Committee of Azerbaijan, the trade turnover between Azerbaijan and Vietnam amounted to $79.76 million in late 2014, which is almost four times less than in 2013. Thus, in 2014 the export of Azerbaijani goods to Vietnam fell by $75.37 million.
---
Follow Laman Sadigova on Twitter: @s_laman93
Follow us on Twitter @AzerNewsAz
Related News