NATO: Azerbaijan's growing role as energy supplier may offer new ideas for common activities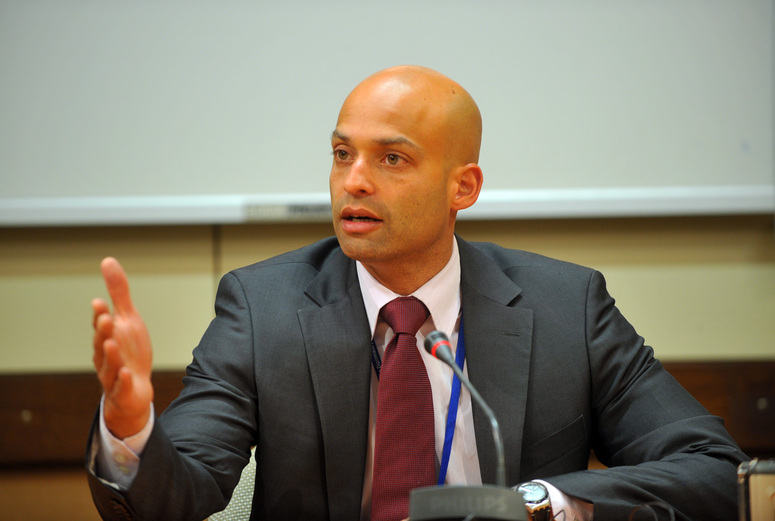 By Gulgiz Dadashova
James Appathurai, NATO Secretary General's Special Representative for the South Caucasus and Central Asia, tells AzerNews about NATO-Azerbaijan cooperation amid the country's growing role as an energy supplier to Europe.
Question: A while ago you announced about your upcoming visit to Azerbaijan in early 2015. Have you determined with the exact date of the visit? If so, what is the agenda of potential talks?
James Appathurai: We have not yet scheduled a precise date for my next visit to Azerbaijan. However, I hope to visit Baku in the not too distant future and discuss both regional security developments as well as NATO--Azerbaijan relations.
Q.: Azerbaijan strengthens its role as a reliable energy partner to Europe. How might this affect its relations with NATO?
A.: NATO is not an energy institution and does not participate in pipeline projects that will bring Azerbaijani gas to Europe. The implementation of such projects is primarily the responsibility of the countries concerned. However, as an Alliance that provides protection for almost 900 million citizens, NATO is interested in more energy security in Europe. This has been reiterated last year in September, at the Summit in Wales, where the Alliance declared that a stable and reliable energy supply, the diversification of routes, suppliers and energy resources, and the interconnectivity of energy networks remain of critical importance. In this regard, projects bringing energy resources from new suppliers to Europe will contribute to the energy security of the Alliance. And while the organisation is not involved in protecting pipelines, it has been engaged in cooperation with Azerbaijan on a number of energy issues over the past years: We exchange information and best practices for energy infrastructure security. We organise conferences and scientific workshops that analyse new threats to infrastructure, such as cyber attacks, and discuss solutions for resilience. We consult on regional energy security vulnerabilities in NATO committees. And we have also recently enhanced the number of energy training and education activities open to Azerbaijan. We will continue this cooperation, and Azerbaijan's growing role as an energy supplier to Europe may offer new ideas for common activities.
Q.: How does NATO assess its partnership with Azerbaijan and what could you say about further interaction between the two?
A.: NATO and Azerbaijan have developed a strong partnership which goes back all the way to 1994 when Azerbaijan first joined the Partnership for Peace. The partnership consists both of political dialogue, with NATO and Azerbaijan exchanging ideas on a wide range of security issues, and practical cooperation. Azerbaijan is a long-standing contributor to NATO operations. At present it supports NATO's Resolute Support Mission in Afghanistan with an Infantry Company as well as some specialized personnel. These contributions have been of great value. We also have strong cooperation in defence reform through a variety of NATO tools, and cooperation with the Ministry of Emergencies, the Internal Troops, the State Border Services and Azerbaijan's National Agency for Mine Action since many years. Last year we adopted a new comprehensive programme for our cooperation for the 2015-2016 period, called the Individual Partnership Action Plan, which we are now implementing.
Q.: What points do you think important to develop in NATO relations with South Caucasus countries, in particular with Azerbaijan, if to take into account the protracted conflicts in the region?
A.: I think it is important to see the longer-term benefits of the NATO-Azerbaijan partnership and its strategic value.
Firstly, the close cooperation within the NATO framework have allowed Azerbaijan and the other parts of the South Caucasus to become part of a community of nations which face similar challenges, share similar interests, and are committed to similar values of democracy and rule of law. NATO Allies and partners value Azerbaijan's contributions to international security, such as its efforts in support of Afghanistan, and NATO Allies and partners are ready to support Azerbaijan with its reforms. All this strengthens the international position of the region and each of the individual countries.
Secondly, the partnership provides a solid footing for cooperation which aims to develop and reform Azerbaijan's security sector with the objective of enhancing both the efficiency of your country's security sector as well as its accountability.
Q.: Armenia and Azerbaijan have become much more acute over the past few months, with repeated exchanges of fire, the downing of an Armenian helicopter in the Azerbaijani territory and caption of the Azerbaijanis on the contact line. What steps can NATO take to avoid warfare to renew? Can NATO bring the sides together under any format to bring peace and stability in the region?
A.: NATO has no direct role in the political process to find a peaceful settlement of the Nagorno-Karabakh conflict. Instead we support the Minsk process. At the same time, we are concerned about the deterioration of the situation on the ground. There is no military solution to the conflict, and I hope that the political process will yield results. The NATO framework can only play a supplementary role, but allows for contacts between politicians, diplomats and military from Armenia and Azerbaijan in the margins of multilateral meetings. I hope such contacts can have a positive impact, and I was pleased to see that President Sargsyan and President Aliyev met in the margins of last year's NATO Summit in Wales.
--
Follow Gulgiz Dadashova on Twitter: @GulgizD
Follow us on Twitter @AzerNewsAz