Military medicine sector on rise in Azerbaijan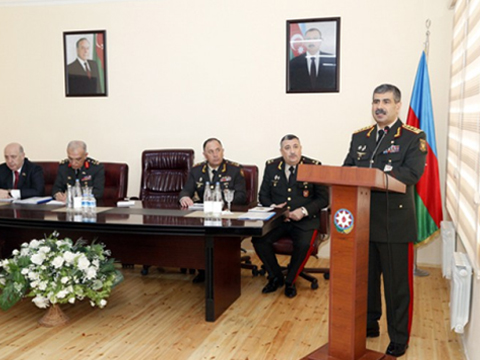 By Mushvig Mehdiyev
The military medicine sector is rapidly growing in Azerbaijan as part of a versatile development of the armed forces, said a top military official in Azerbaijan.
Assessing the current condition of the military medicine sector in a meeting with the delegation headed by Head of Turkish Military Medical Academy Gulhane, General Omar Pac, Defense Minister, Zakir Hasanov said the health of soldiers was of a crucial importance in terms of combat readiness and overall performance.
"Every military doctor should realize that the health of personnel is a factor which has a great impact on the army's combat readiness and in general the military training capability," Hasanov said drawing attention to the rising significance of the military medicine sector in the army.
"To this end, the role of military doctors serving in the armed forces is irreplaceable and indisputable, particularly in the light of our soldiers' readiness to liberate the occupied lands," Hasanov added.
Hasanov appreciated President Ilham Aliyev's constant care and attention in view of achieving successes in the military medicine sector.
As for the cooperation in medical field with Turkey, the minister praised the continuous support of the brotherly country in education, exchange of experiences and other issues.
The sides also viewed the first Simulation Centre, established at the Military Medicine Faculty of Medical University for training and workshops, as well as the training laboratory, computer lab, library, and a complex of dormitories.

Hasanov also touched upon the tense situation along the line of contact between Armenia and Azerbaijan armies and the enemy's attempts to carry out sabotage attacks.

Being confident of the army's versatile progress, Hasanov reaffirms periodically the Azerbaijani armed forces' readiness to carry out any order from the Supreme Commander, adding that Azerbaijani soldiers will justify the people's trust in them come what may.
Azerbaijan's leadership is now attaching a great deal of attention and importance to its army building measures as part of its state policy amid the unresolved territorial conflict with Armenia over the Nagorno-Karabakh region.
The Nagorno-Karabakh and seven adjacent regions of Azerbaijan are currently under Armenia's occupation following a sudden and insidious aggression by this smallest South Caucasus country in the early 1990s. While Yerevan continues to justify the occupation of 20 percent of Azerbaijan's territory by backing the separatist puppet regime in Nagorno-Karabakh, Baku and international organizations have worked hard to end the conflict in peace.
International decision makers unequivocally recognize the occupied lands as part of Azerbaijan's territorial integrity and the United Nations Security Council adopted four resolutions urging Armenia to pull its troops out of Nagorno-Karabakh.
Nonetheless, the former and incumbent rulers in Yerevan turned down calls for peace, being true to Armenia's belligerent nature.
- - -
Follow Mushvig Mehdiyev on Twitter: @Mushviggo
Follow us on Twitter: @Azernews