Azerbaijan tries to achieve breakthrough in Nagorno-Karabakh conflict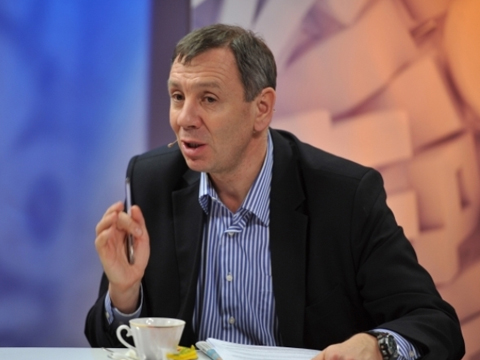 By Mushvig Mehdiyev
Azerbaijan endeavors to achieve a breakthrough and a change to the status-quo in the Nagorno-Karabakh conflict, a well-known Russian political expert said.
Head of the Russian Centre for Political Survey, Sergei Markov said Azerbaijan's rulers periodically announced that the conflict in Nagorno-Karabakh remains frozen and voiced their dissatisfaction with the OSCE Minsk Group's fruitless involvement so far.
Markov believes though that war is not feasible in between the two regional neighbors.
"Massive war could trigger serious economic problems in both countries. Thus, the possibility of renewed armed clashes is very unlikely," he told Armenian media.
Markov's remarks on Azerbaijan's proposal to change the structure of the OSCE Minsk Group emerged quite positive when he said "perspectives are not excluded in this regard".
"The fact that the largest Armenian diaspora in the world is in France puts its impact on the Minsk Group approach towards the Nagorno-Karabakh conflict. Moreover, France has not a single-handed stance on the conflict since it represents the European Union's opinion in the mediation group. So, Azerbaijan has attempted to replace France with a country where the role of the Armenian diaspora is not influential, in other words Azerbaijan's choice has fallen to Germany. I think that Baku will finally achieve its goal and sideline France from the Minsk Group," Markov said.
As for the U.S. and Russian opinion about the Nagorno-Karabakh conflict, Markov said the two super powers have made their positions crystal clear - the conflict should be settled peacefully based on international norms and principles.
Although the Minsk Group is brokering peace talks between Azerbaijan and Armenia, Baku has raised questions as to the efficiency of such talks amid the lack of any tangible result. Periodical visits of the OSCE Minsk Group co-chairs to the region have already lost their substance, claim Azerbaijani officials.
Dissatisfied with the OSCE mediation efforts so far, Baku even called on Turkey and Germany to join the group in view of promoting a breakthrough and finalize the resolution of the Nagorno-Karabakh conflict.
Azerbaijan's internationally recognized Nagorno-Karabakh territory was turned into a battlefield and zone of aggravated tensions after Armenia sent its troops to occupy Azerbaijan's lands in the early 1990s. As a result, 20 percent of Azerbaijan's internationally recognized territory stands under military occupation of Armenia.
For the past two decades, and despite calls from the international community, Armenia has refused to withdraw its troops and retreat within its national borders.
- - -
Follow Mushvig Mehdiyev on Twitter: @Mushviggo
Follow us on Twitter: @Azernews