19 January 2015 12:58 (UTC+04:00)
1 391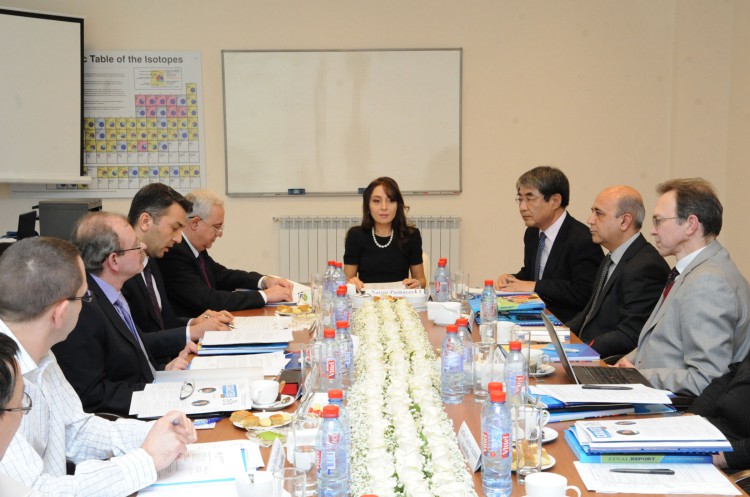 By Nigar Orujova
A delegation of the Steering Committee of the International Chemistry Olympiad led by Prof. Dakuan Lee has arrived in Baku to meet with the officials of the Organizing Committee of the 47th International Chemistry Olympiad.
Azerbaijan's capital Baku will host the International Chemistry Olympiad on July 20-29. The event will be held at the Baku branch of the Lomonosov Moscow State University.
The Steering Committee of the International Chemistry Olympiad includes representatives of 12 countries.
During their two-day visit, the delegates are expected to examine the audience and the chemical laboratory of the University, which will host theoretical and practical stages of the Olympiad.
The program also includes a visit to the Heydar Aliyev Center, which will host the official opening and closing ceremonies of the Olympiad.

The members of the Steering Committee met with Nargiz Pashayeva, President of the 47th International Chemistry Olympiad and its Organizing Committee on January 16.
Pashayeva, rector of the Baku branch of the Lomonosov Moscow State University, corresponding member of the Azerbaijan National Academy of Sciences, spoke about the forthcoming Olympiad.
"It will be a very important event for Azerbaijan, which has a rich tradition in the chemical science and long history in oil industry," she noted.

Pashayeva went on to say that one of the main tasks of the Organizing Committee is to conduct a transparent Olympiad. To this end, the rector offered to establish a "hot line" for all participants of the Olympiad so that they can report their comments during the period of the competition.

This year the Olympiad will bring together school students. "We need to inspire students to get involved further in science," Pashayeva stressed.

Prof. Dakuan Lee, for his turn, said: "For many of us, this is the first visit to Azerbaijan. We are here to make the Olympiad more successful and productive. We wish you a successful Olympiad".

The decision to hold the Olympiad at the Baku branch was made in July 2012 in Washington. Azerbaijan is the second country after Russia in the post-soviet area to win the bid to host the international chemistry Olympiad.
The organizing committee chaired by Pashayeva has done much work including the first edition of the Catalyzer, the Olympiad newspaper, the website of the Olympiad, tentative program of requirements for the Olympiad participants. The website of the event was also created (http://icho2015.msu.az/).
Today, the Baku branch of Moscow State University is one of the centers of chemical education in Azerbaijan. The branch trains specialists in various fields of chemistry and manufacturing.
The Chemistry Department of the branch has all the necessary conditions and facilities, including various laboratories with modern equipment, for the development of chemical knowledge and skills of students.
Related News