Defense Ministry rejects Armenian accusations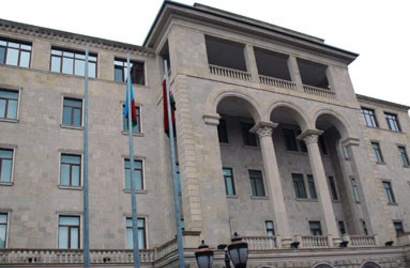 By Mushvig Mehdiyev
Azerbaijan has rejected as baseless Armenia's recent claims.
"The Armenian side has spread information about the losses allegedly suffered by the Azerbaijani Armed Forces on the frontline, as well as the Armenian army's alleged permission to take the corpse of an Azerbaijani resident and alleged killing of an Armenian shepherd by the Azerbaijani servicemen. These are absolute lies," said Vagif Dargahli, Colonel, Spokesman for the Azerbaijani Defense Ministry, on January 12.
Dargahli said the Armenian side was trying to mislead the local and international community simultaneously with the dissemination of the provocative information.
He added that the Azerbaijani Armed Forces fully control the situation on the contact line.
"A skirmish was observed last night, as the Armenians fired at Azerbaijani villages and civilians. The Azerbaijani Armed Forces gave a fitting rebuff."
Spokesman for the Armenian Defense Ministry Artsrun Hovhannisyan reported on his Facebook page that in accordance with the international humanitarian rules, the Armenian armed forces allegedly allowed the Azerbaijani side to take the corpse of an Azerbaijani "saboteur" on January 11, who was killed during the "diversionary attacks" in towards the Tavush region.
"Hovhannisyan seems to wage a cyber war on his Facebook page," Dargahli said. "The Armenians are trying to virtually implement everything, what they cannot do in real life."
Commenting on the accusations by the Armenian side in regard to the murder of an Armenian shepherd named Sargsyan, Dargahli said in fact he was killed by the Armenians themselves, but they put the blame on the Azerbaijani side.
"The Armenian side claimed that the 80-year-old shepherd was killed during a skirmish. It turns out that Armenia was in trouble to find people willing to fight and therefore are recruiting the elderly ones," Dargahli noted.
The conflict between the two South Caucasus countries began in 1988 when Armenia made territorial claims against Azerbaijan.
As a result of the ensuing war, in 1992 Armenian armed forces occupied 20 percent of Azerbaijan, including the Nagorno-Karabakh region and seven surrounding districts.
The two countries signed a ceasefire agreement in 1994. The co-chairs of the OSCE Minsk Group, Russia, France and the US are currently holding peace negotiations.
Armenia has not yet implemented four UN Security Council resolutions on the liberation of the Nagorno-Karabakh and the surrounding regions.
--
Follow Mushvig Mehdiyev on Twitter: @Mushviggo
Follow us on Twitter: @AzerNews