President Aliyev, First Lady review construction of Heydar Mosque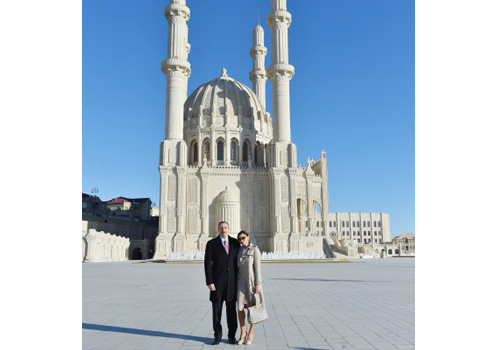 By Nigar Orujova
Azerbaijan's President Ilham Aliyev and his spouse Mehriban Aliyeva reviewed the final stage of construction of the Heydar Mosque in Binagadi district of Baku on December 24.

Baku Mayor Hajibala Abutalibov said the building, which covers a total area of 12,000 square meters, was constructed under the instructions of the head of state.
The construction of four minarets, which are 72 meters in height, was completed. The inside part of the mosque occupies a total area of 4,200 square meters.

The head of state gave relevant recommendations and instructions.
The mosque which will be able to host 2,000 people consists of separate worship halls for women and men. The main salon of the building is 900 square meters. The salon allocated to women is about 350 square meters.
For the convenience of prayers, four escalators for men and two for women will be installed at the entrance and exit doors of the mosque.
The ground will include a parking and some other special places in near future.
The mosque construction began two years ago with the budget of 10 million manats.