Int'l community hails Paris meeting as positive step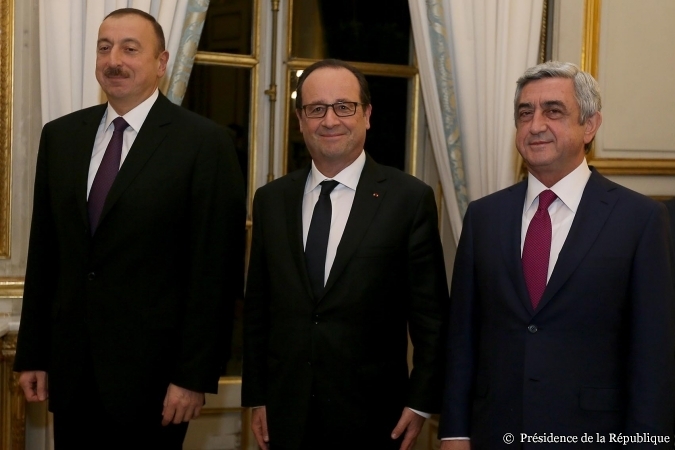 By Sara Rajabova
The international organizations and foreign countries have hailed the Paris meeting of Azerbaijani and Armenian presidents as a positive step towards resolution of the long-lasting Nagorno-Karabakh conflict.
EU Baku office head Malena Mard said the Paris meeting was a positive step on the Nagorno-Karabakh conflict settlement.
"I think these kinds of high level meetings are definitely important for changing the status-quo and peaceful resolution," Mard told Trend news agency on October 29.
She noted that it is important that these kinds of high level meetings continue in future.
Azerbaijani President Ilham Aliyev and Armenian President Serzh Sargsyan held a meeting on October 27 with the participation of the OSCE Minsk Group co-chairmen to discuss the settlement process of Nagorno-Karabakh conflict. The two presidents held a face to face meeting, which followed by another joint meeting with the OSCE Minsk Group co-chairs.
Afterwards, a joint meeting was held attended by President Hollande, President Aliyev, President Sargsyan and the OSCE Minsk Group co-chairmen.
The United States, one of the MG co-chair countries, also expressed hope to expand talks on the Nagorno-Karabakh conflict.
"We call on all sides to redouble their efforts at the negotiation table to focus on the benefits that peace will bring to people across the region," U.S. State Department Spokesperson Jen Psaki said.
However, Psaki refused to comment on the "trial" which started this week on two Azerbaijani hostages taken captive by separatists in Nagorno-Karabakh.
"As for these specific cases, we really don't have a great deal of information on it," Psaki said.
The Armenians held "trial" on two Azerbaijanis, who were captured in their native lands by the Armenian separatists, on October 27, when the Azerbaijani and Armenian presidents met to discuss the ways of resolving Nagorno-Karabakh conflict.
Armenian special forces killed Azerbaijani citizen Hasan Hasanov and took hostage Shahbaz Guliyev and Dilgam Asgarov in the Shaplar village of the occupied Kelbajar region on July 11. The civilians were visiting the graves of their relatives.
The hostages are allegedly accused of murdering an Armenian teenager among other charges.
For over two decades, Azerbaijan and Armenia have been locked in a conflict which emerged over Armenia's territorial claims against its South Caucasus neighbor. Since a war in the early 1990s, Armenian armed forces have occupied 20 percent of Azerbaijan's territory, including Nagorno-Karabakh and seven surrounding regions. A fragile ceasefire has been in place since 1994, but long-standing efforts by U.S., Russian and French mediators have been largely fruitless so far.
Armenia has not yet implemented the U.N. Security Council's four resolutions on its pullout from the neighboring country's territories.