12 September 2014 13:26 (UTC+04:00)
1 196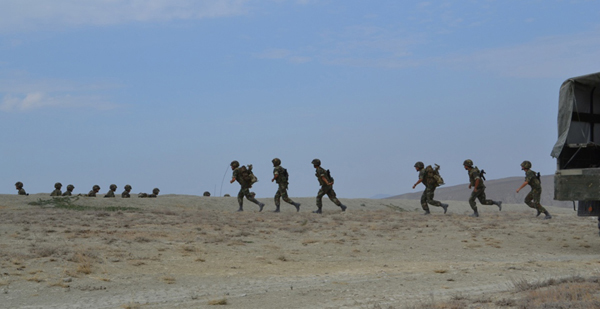 By Sara Rajabova
Azerbaijani and Turkish armed forces will hold large-scale military exercises on September 13-20.
Azerbaijan will host the large-scale operational and technical exercises involving all types of troops of Azerbaijani armed forces.
The drills would be held in accordance with a plan approved earlier by Azerbaijani President, Supreme Commander Ilham Aliyev, Azerbaijani Defense Ministry said on September 12.
The exercises will also involve most military units of the armed forces of Turkey.
The Ministry noted that it is planned to study the issues of interaction and coordination of all reconnaissance of the armed forces, special forces, air force, as well as the air defense forces in first stage of exercises.
The tasks of organizing and conducting offensive operations of the Land Forces in various conditions, as well as in mountainous terrain, tactical air assault landing, the use of raid and advance squads, and comprehensive support of operations will be carry out in the second stage.
Nearly 10,000 reservists will be involved in the military gathering to check the level of execution of tasks on mobilizing military units and formations, under the personal instructions of the supreme commander.
Also practical exercises will also be conducted on the use of various types of weapons, moral and psychological training and coordination.
The third phase will feature motorized rifle and tank divisions carrying out firing exercises at landfills, including firing exercises using missile and artillery installations, anti-aircraft missiles, combat aircraft and helicopters.
The exercises will involve about 30,000 servicemen, over 250 armored vehicles, 150 artillery and missile units, up to 20 aircraft and 15 helicopters of the air forces, including the air defense units and air defense formations, which are armed with modern air defense systems.
The Azerbaijani army frequently holds military exercises to increase its combat capabilities.
Related News