Turkmenistan committed to develop long-term relation with Azerbaijan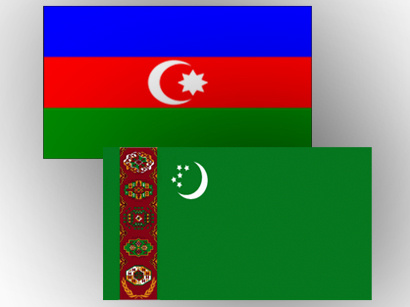 By Aynur Jafarova
Turkmenistan is committed to develop long-term partnership with Azerbaijan on an equal and mutually beneficial basis.
This remark was made by Turkmen President Gurbanguly Berdymukhamedov at a meeting with Azerbaijani Deputy Foreign Minister, ADA University's Rector, Ambassador Hafiz Pashayev, local media said on September 2.

Pashayev conveyed Azerbaijani President Ilham Aliyev's warm greetings to President Berdymukhamedov, as well as Azerbaijani president's wishes for happiness, peace and prosperity to the Turkmen people and their leader.

Turkmen president, for his part, expressed his best wishes to the leadership and people of Azerbaijan.

During the meeting, the sides also exchanged views on the current state and prospects of further development of the Turkmen-Azerbaijani relations.
President Berdymukhamedov and Deputy FM Pashayev noted with satisfaction the last few years' tendency towards convergence of national interests.

They also underscored significant strengthening of trade and economic, cultural and humanitarian ties, as well as enhancement of cooperation in the sectors of energy and fuel, transport and communication.

The main topic of discussion between two sides was the possibility of cooperating in the education sector.

Pashayev also attended the opening ceremony of the International University of Humanities and Development in Ashgabat on September 2.
He expressed confidence that given the Turkmen president's great attention to improve the national education system, a new generation of citizens will have very good opportunities to get an education at international levels.

He also said the existing constructive dialogue became possible solely through the trusting relations, based on mutual respect between the two presidents. They fully support intensifying and expanding the inter-state relations in all areas, as well as Turkmenistan's and Azerbaijan's full understanding of key issues of cooperation, successfully established multilaterally, as well as within international organizations.

Pashayev also noted being neighbors in the Caspian region, the countries are strategic partners in the search for the most appropriate ways to resolve current relevant issues. The most important of them is to ensure global energy security.
Turkmenistan and Azerbaijan, the two Caspian littoral countries with rich hydrocarbon reserves are interested in using alternative routes for delivering energy resources of the Caspian region to Europe.
The recent intensification of Turkmen oil transportation via Azerbaijan can be referred to as a brilliant example of mutually beneficial cooperation between the two countries.
The Azerbaijani State Customs Committee said the trade turnover between the two countries amounted to $88.15 million in 2013. More than half of this volume fell to the import of Turkmen production to Azerbaijan. Its volume amounted to $48.3 million. The exports from Azerbaijan to Turkmenistan amounted to $39.85 million.