First Azerbaijani cookbook to be published in U.S.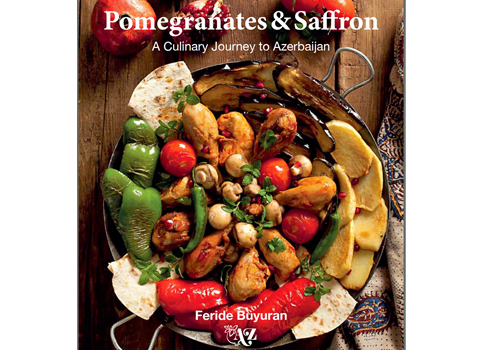 By Nigar Orujova
Azerbaijani cuisine has inspired many people, locals and foreigners, as no one can stop falling in love with it immediately.
Delicious dishes of various regions drive crazy gourmands and tourists cannot resist good smell from the local restaurants. Some people like the food so much that want to cook it at home as well, looking for recipes books which are rarely in English.
However, this problem will be resolved by October with "Pomegranates and Saffron: A Culinary Journey to Azerbaijan" book, the first comprehensive cookbook on Azerbaijani cuisine published in the U.S.
The book explores some 200 recipes of traditional and modern Azerbaijani dishes grouped into 15 categories, including appetizers and salads, soups and stews, vegetarian dishes, pasta dishes, and desserts, all adapted for preparation in a Western kitchen by the author, food blogger Feride Buyuran.
The unique book has 90 percent new content and 10 percent best recipes from her blog, mixed with felicitous Azerbaijani proverbs, words of wisdom, and anecdotes. All the recipes have been collected from the different region of homeland including ancient and forgotten ones. They were tasted a number of times to make the cookbook more precise.
Currently, the book is available to pre-order on: http://www.azcookbook.com/pomegranatesandsaffron.
Sheilah Kaufman, Award-Winning Author (with Nur Ilkin) of "The Turkish Cookbook" believes that "Azerbaijan's culture and cuisine are not yet well known to many of us. Now Feride Buyuran's book Pomegranates and Saffron is about to change it. Reading this amazing, extensive, and comprehensive compilation on this ancient culture and cuisine is a must for anyone interested in expanding their culinary repertoire," she said.
Feride Buyuran, the creator of popular food blog AZCookbook.com, never thought she would become a chef. She holds a Bachelor's and a Master's degree in English Philology from Azerbaijan's State University of Languages and a Master of Business Administration degree from California State University.
However, the passion for cooking led the author to produce her first book about the cuisine of her homeland.
"I moved to the United States in 2002. At that time, my cooking was very limited. Craving for homemade Azerbaijani foods, I decided finally to learn how to cook properly," Feride explains to AzerNews.
Feride knew the process of cooking Azerbaijani dishes as she saw her mom's cook every day in Baku, but rarely tried to cook herself back in home. However, moving to the U.S. forced her to learn to cook Azerbaijani dishes from her mom's recipes and other dishes from books and magazines.
"Call after call to my mom in Baku for recipes, trial after trial in the kitchen, I finally mastered some skills. While I was learning how to cook, I searched for an Azerbaijani cookbook in bookstores and libraries, but was not able to find any that would cover our cuisine in details," she said.
So, I felt there was a niche and that I could fill it. The blog was launched in January 2007. With this blog I wanted to both introduce Azerbaijani cuisine to the world and help fellow Azerbaijanis living abroad and looking for tried and tested recipes to recreate their national food far from their homes," she said.
Living far away from the birthplace forced Feride to look at native cuisine from a different perspective. "Here I began to deeply appreciate the cuisine which I took for granted back in Azerbaijan. The dishes, the flavors, the aromas become special and unique."
The author is nimble for new recipes and can be easily inspired by trips to the grocery store or a farmer's market, a recipe in a magazine or a cookbook. "I love to eat so seeing food or even thinking about food can make me rush into the kitchen to whip up something," she underlines.
Despite introducing new cuisine to Americans, Feride also supports healthy life style and adjusts Azerbaijani dishes to local cuisine. "Food can be delicious without being laden with tons of fats and unhealthy ingredients. I also try to squeeze regular exercising into my busy schedule."
Except this, the energetic business woman is taking classes of flamenco dance, and also likes to read whenever she gets a chance.
The main appreciators of Feride's recipes are her family. "When my food experiments turn out good, they are happy. Recipes that end up in a disaster are not welcome, of course. But generally speaking they are happy," she added.
The recipes, representing various regions of Azerbaijan, came from family, friends, and perfect strangers who wanted to help. "I am so grateful to all the people for their invaluable recipe contribution," Feride stresses.
Moreover, Feride mastered food photography skills and produced practically all of the living photos for the book.
Sharing with us her plans, Feride noted, that she expects to continue with food blogging in both English and Azerbaijani. "I have lots of dreams for the future - my own magazine, a TV program, and more books," she explains.
Hopefully, the author will further promote Azerbaijan and its cuisine abroad and more people will have a chance to enjoy lipsmacking Azerbaijani dishes.