12 May 2014 15:36 (UTC+04:00)
8 025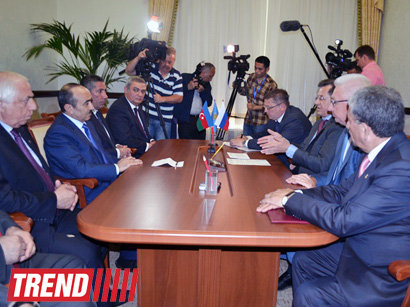 By Nazrin Gadimova
Head of Public and Political Issues Department of Azerbaijani Presidential Administration Ali Hasanov and Governor of Russia's Astrakhan region Alexander Zhilkin discussed prospects for bilateral relations during the meeting in Astrakhan on May 12.
Addressing the event, Zhilkin greeted the Azerbaijani delegation, which arrived in Astrakhan to participate in the event dedicated to the tenth anniversary of the establishment of Heydar Aliyev Foundation.
Emphasizing the high level of cooperation between Russia's Astrakhan oblast and Azerbaijan in many spheres, including the humanitarian and cultural fields, the governor also expressed hope that Azerbaijani Culture Days will be held in Astrakhan this year and the Russian side will hold a similar event in Baku.
Zhilkin underscored the high level of cooperation between the universities of Azerbaijan and Astrakhan oblast, adding that students of an Astrakhan university will study the Azerbaijani language.
He went on to add that the Astrakhan and Azerbaijani TVs are interested in cooperation and exchange of television programs.
Touching upon the economic issues, Zhilkin pointed out the desire to intensify the ferry service between Astrakhan and Baku.
Speaking at the meeting, Hasanov thanked the Astrakhan side for the warm reception and hospitality and stressed that the meetings between the two sides have already become traditional.
"Not only the Azerbaijani-Russian relations, but also direct cooperation among Azerbaijan and various regions of Russia, including Astrakhan are being strengthened according to the agreements reached between the presidents of Azerbaijan and Russia," he said, adding that the Azerbaijani side has visited Astrakhan six times in the past three years.
"The cooperation between Azerbaijan and the Astrakhan oblast of Russia can be exemplary for other regions of Russia," Hasanov emphasized.
He also expressed gratitude to the governor of the Astrakhan region for the activities related to the anniversary of the Heydar Aliyev Foundation.
"These activities will contribute to the strengthening of bilateral relations," he added.
After the meeting, the Azerbaijani delegation and the leadership of the Astrakhan oblast laid flowers at the Heydar Aliyev monument, visited the "Dream" children's entertainment center, which was built by the Heydar Aliyev Foundation, as well as the Heydar Aliyev secondary school No 11.
Answering the questions of journalists, Hasanov said the relations with Russia have a special place in Azerbaijan's foreign policy.
"We are in direct contacts not only with the Russian Federation, Moscow, but the entities. Astrakhan holds a special place among them. We have historical, economic, social, spiritual and cultural ties with Astrakhan. We also share the Caspian Sea. So, our relations with Astrakhan are in some extent a model for other entities of the Russian Federation, and today's events in Astrakhan prove that," Hasanov said.
He added that currently, the issue of opening a Baku-Astrakhan direct flight or a Baku-Astrakhan-Volgograd connection flight is being worked out.
Category News