Ilnur Zakarin winner of Tour d'Azerbaidjan 2014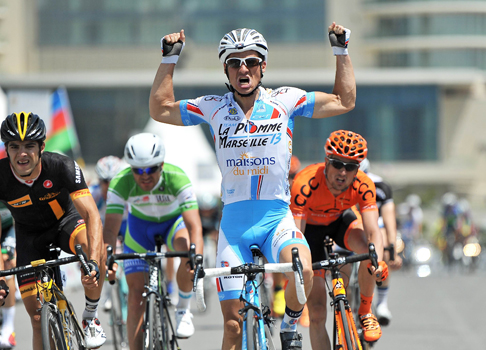 By Nigar Orujova
Ilnur Zakarin (Rusvelo) won the overall title of the Tour d'Azerbaidjan 2014 while Justin Jules (La Pomme Marseille) won the final stage of the tournament.
The traditional race gathered 150 cyclists representing 25 teams from 33 countries this year. It was held in Azerbaijani capital and regions on May 7-11.
The final stage consisted of a 120 lap starting from and ending at Freedom Square in Baku, and then there were six laps of a difficult circuit course through downtown Baku, including cobblestones and a category three climb, with no wind, but high temperature.
Zakarin successfully defended the leader's jersey he won on the previous day's Queen Stage. Vitaliy Buts (Kolss) and Darren Lapthorne (Drapac) rounded out the final podium.

"It was a very tough day and a hard circuit," Zakarin said. "The team protected me in the stage and in fact in the whole race. My first thanks go to my teammates, who earned the victory."

The rider has been successful in the past season, winning the overall title in the GP Sochi and the GP Adgeya.
The King of the Mountains jersey went to Linus Gerdemann (MTN Qhubeka), best young rider was Robert Power (National Team Australia), the sprint jersey was awarded to Vitaly Buts (Kolss), and MTN Qhubeka was the best team overall.
Synergy Baku Cycling Project finished the Tour d'Azerbaidjan 2014 with a strong performance by Azerbaijani national champion Samir Jabrayilov, who was named the best Azerbaijani rider of the tour.
"Of course I feel very proud. I am very pleased to win this special jersey, but I would really like to get the leader's jersey in this race. Perhaps in a few years it will be within my reach," Jabrayilov said.
Vice-President of the Azerbaijan Cycling Federation Sahib Alakbarov thanked everyone who participated in the tour.
"All five stages were held at a high standard and in a good mood. Every year we will try to improve the level of the tour. These competitions will also help young Azerbaijani cyclists," he said.
"The last half hour of the fifth stage was broadcasted live around the world. This step is an important element to prepare ourselves for European games Baku Games 2015," he said.
Team manager David McQuaid said despite what the results show, the Tour d'Azerbaidjan 2014 has been a good tour for the team.
"On an overall basis, I'd have to say we are satisfied with the results. We are raising the level of races, particularly those in Europe," he said.
Organized by Azerbaijan Cycling Federation, the tour was traditionally held in Baku and Azerbaijani regions in May. Holding the annual cycling competition in Azerbaijan shows the rising domestic interest in this sport.