Chiza Architectural Bureau creates conceptual design of Formula 1 autodrome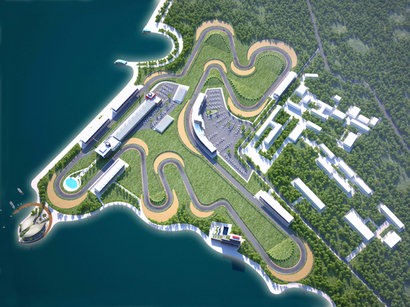 By Nigar Orujova
Chiza Architectural Bureau created a conceptual design of Formula 1 autodrome in Baku.
Azerbaijan will host one of the stages of the Grand Prix of Formula 1, the highest class of single-seat auto racing sanctioned by the Fédération Internationale de l'Automobile (FIA), in autumn 2015.
The Bureau has offered to hold the race not on Baku streets, but in a special place which will not harm city life.
The F1 season consists of a series of races known as Grands Prix held throughout the world on purpose-built circuits and public roads.
This annual event has amazed cities around the world for over 60 years.
Building the autodrome will facilitate holding not only Formula 1, but also other motor racing any time of the day and year without assembling and dismantling arenas or creating other infrastructure within the city which slows traffic.
A lot of time is needed to create the entire necessary infrastructure within the city for the two-day race.
Chiza Architectural Bureau has created the conceptual design of the autodrome, which can unload the city center and at the same time hold the race near the center.
The Bureau believes that Cape Sultan in the eastern part of the city, where Baku Seaside Park ends, is a good place for such a facility. Entrance to the autodrome will open to the Zikh-airport motorway, which will provide both fast access to the complex and fast unloading.
Cars should make 60 laps at the 5,160-meter-long racetrack to reach 309 km, while the Formula 1 regulation specifies at least a 305 km long race. The complex's plan includes parking, grandstand, pits, garages, repair shops, and press centers.
The concept also features a hotel that can accommodate athletes during the race, and accommodate tourists at other times.
The Bureau has also designed a Yacht Club at the cape's end for water transport.
Baku has recently gained some experience in holding large-scale racing competitions on its streets.
Azerbaijan's capital hosted 2013 FIA GT Series season finale on November 22-24. Some 14 international race teams and 30 GT cars took part in the FIA GT Series Final round on a newly designed 4-kilometer street-circuit, which stretched along the Caspian Sea and centered around the National Flag.
Baku also hosted its first racing Baku City Challenge in October 2012, presenting a spectacular urban motorsport experience and attracting the attention of city residents. Approximately 120 countries broadcast the show for 300 million people.